Vegan spicy chocolate mousse. Rich chocolate mousse that's sweetened with dates! Gently fold in melted chocolate, sugar, and vanilla, being careful not to overmix. I'm so excited to bring this simple yet indulgent vegan chocolate mousse with aquafaba recipe to you, guys.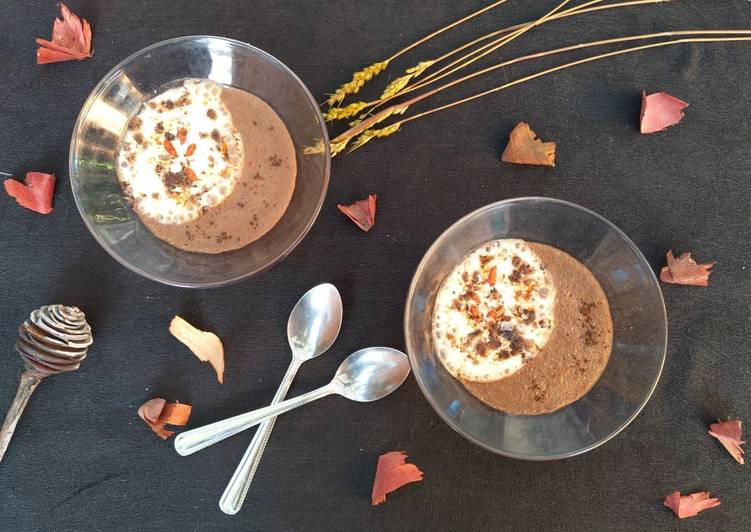 This vegan chocolate mousse is creamy, rich, and light. It's also raw, paleo, and really easy to make. This chocolate mousse is light, fluffy, lusciously smooth, and intensely chocolaty. You can have Vegan spicy chocolate mousse using 4 ingredients and 4 steps. Here is how you achieve it.
Ingredients of Vegan spicy chocolate mousse
It's 1/2 cup of aquafaba (chickpea water from a can).
You need 3 tbsp of milk.
You need Pinch of Cayenne pepper.
Prepare 80 g of dark chocolate.
It's so simple yet elegant and indulgent. Vegan Orange Chocolate Mousse with Pistachios. Vegan Spicy Peanut Chickpea Bowls with Sesame Greens. This vegan chocolate mousse is every chocolate lover's dream.
Vegan spicy chocolate mousse step by step
Take your chickpea water and start whipping it up with a blender until stiff peaks form. (I used a hand blender so it took about 20 minutes to get it to this stage).
Chop up your dark chocolate and place in a bowl along with the milk and Cayenne pepper..
Once your chocolate is melted, let it cool a bit before you start adding it into your whipped aquafaba. fold the chocolate and aquafaba gently in each other till well combined..
Scoop your mousse into your preferred bowls. Then cover with clingwrap and let it chill in the fridge for 1 1/2 hours before serving. You can top this dessert with some nuts, or goji berries or even enjoy as is!.
The basis of this vegan mousse is aquafaba – a previously overlooked and underappreciated ingredient that's been making headlines lately. This vegan mousse is made with aquafaba for the most fabulous chocolate mousse texture ever! It's light and airy and simply perfect. This vegan mousse has the most realistic mousse texture of any vegan mousse out there. Well…it's because of the geniuses who discovered.