Root Vegetable Stew with Red Wine (Vegan). Zippy Vegan Coleslaw with Mango [Vegan]. We can't imagine a better way to honor the beginning of fall than with this beautiful root vegetables stew. It is made the traditional way with red wine and the earthy flavors of mushrooms, thyme, and rosemary.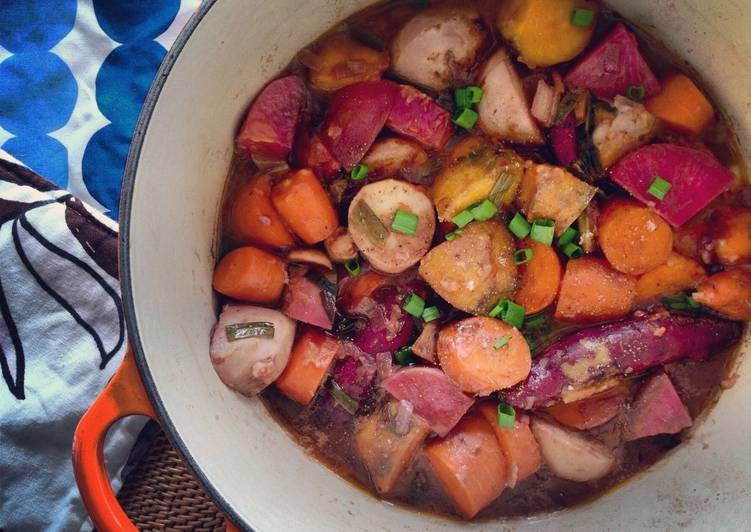 This recipe can easily be made vegan by omitting the yogurt or serving with vegan yogurt. Use any combination of root vegetables you like. This healthy vegan slow cooker root vegetable stew is easy to prep and keeps well for warm, comforting meals all week. You can have Root Vegetable Stew with Red Wine (Vegan) using 17 ingredients and 8 steps. Here is how you cook it.
Ingredients of Root Vegetable Stew with Red Wine (Vegan)
It's 4 cloves of garlic.
Prepare 1 of Leek or onion.
It's 2 of Bay leaves.
Prepare 1 tsp of grated ginger (optional).
Prepare 1/2 tsp of thyme.
It's 4 of medium potatoes (or taro roots are good too!).
Prepare 3 of carrots.
Prepare 1 handful of rutabaga (or sunchokes/Jerusalem artichokes).
Prepare 2-3 of small sweet potatoes and/or potatoes.
Prepare 1/4 tsp of Nutmeg.
It's 1 cup of Red wine.
It's 1 Tbsp of Tomato paste.
You need 1 Tbsp of Flour.
Prepare 1 cup of Water.
You need to taste of Salt & pepper.
Prepare 1 Tbsp of Oil for sautéing, or more if needed.
Prepare to taste of Parsley, chives, etc to garnish.
Root vegetables are some of the most nutrient-dense foods in the world. They each have their own set healthy benefits but they also share some common ground, so to speak. Braised root vegetables, rich with red wine, mushrooms and thyme, make a fabulous vegetarian entree or side dish. Enjoy alongside roast chicken or turkey.
Root Vegetable Stew with Red Wine (Vegan) instructions
Prepare your carrots, potatoes and other veggies: Cut carrots into thumb-sized chunks. Peel potatoes/taro root and halve (or quarter if large). Cut any other veggies you might be using to the around the same size..
Finely chop onion/leek, mince ginger if using, peel and crush garlic. Heat oil in a heavy pot and saute onion, ginger, garlic, bay leaves and thyme until onion starts to brown (10-12 minutes)..
Add in other vegetables to pot along with 1.5 tsp salt, pepper, and 1/4 tsp nutmeg. Cook for 5 minutes on medium..
Turn heat to high and add 1 cup of red wine. Scrape up any onion bits from the bottom of pot. Cook until wine is reduced to half..
Turn heat to medium and add flour and tomato paste..
Cover and cook for 2-3 minutes..
Uncover, add 1 cup of water and stir. Cook until liquid is reduced to half again..
Turn to low so vegetables are just simmering. Cover with lid and simmer for 20-25 minutes. You should end up with a nice thick broth by the end! Add salt & pepper if needed, sprinkle on some chives or parsley and serve!.
Could I do this as a root vegetable stew sans the lamb or any other meat? Combine red wine, vinegar, olive oil, onion, carrots, celery, garlic, bay leaves, thyme and rosemary in a medium bowl, and mix well. Transfer to a large resealable plastic bag, and place the steaks into the bag. Close tightly, pressing out as much air as you can. Pairing Bold Red Wine with a Vegetarian Diet.