Vegan "Buttermilk" Biscuits. Warm, flaky buttermilk biscuits and good old-fashioned country gravy, it's a delicious combination that takes me on a journey to my younger days, before becoming vegan. I have a delicious recipe for vegan southern style biscuits. These were so amazing and I am so excited to share the recipe.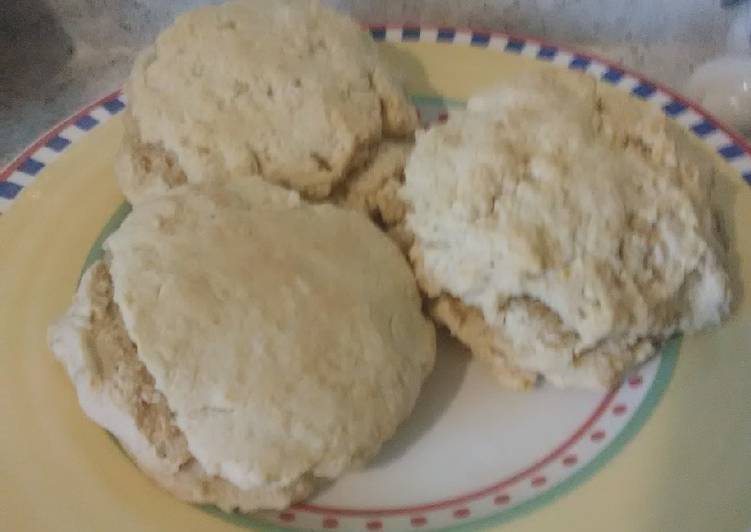 Of course, but then they're just biscuits, not vegan biscuits. That would be a pretty standard biscuit recipe. As you can tell, I fell in love with the American biscuit. You can have Vegan "Buttermilk" Biscuits using 9 ingredients and 4 steps. Here is how you achieve it.
Ingredients of Vegan "Buttermilk" Biscuits
Prepare 2 cups of flour.
It's 1/4 cup of ICE COLD coconut oil.
It's 3/4 tsp of salt.
It's 1 tbs of baking powder.
Prepare 1/2 tbs of lemon pepper.
Prepare 1/2 tbs of water.
You need 2 tbs of non-dairy coffee creamer.
You need 1/4 cup of boiling water.
Prepare 3/4 cup of cold water.
Especially buttermilk biscuits which have a really tender crumb. These homemade buttermilk biscuits are soft and buttery with hundreds of flaky layers! Big as in mega flaky, mega fluffy, mega layers, mega golden brown, mega buttery, and. Making your own homemade vegan buttermilk is beyond simple.
Vegan "Buttermilk" Biscuits step by step
Mix creamer with boiling water. Once dissolved add to 3/4 cup cold water. Mix 1/2 tbs water with 1/2 tbs lemon pepper. Add to "milk". Stick in the freezer for now..
Mix dry ingredients together. Cut cold oil in to dry ingredients, til crumples of oil are evenly through flour..
Mix in "milk". Form 8, 1 inch thick, biscuits. *I made mine huge. I only got 4 out of this mixture.*.
Preheat oven to 450° bake for 10-15 mins..
It's literally two ingredients, roughly two minutes, and you're done! Now what would you be needing buttermilk for you might ask? The dairy staple is frequently called for in sweet and savory recipes like biscuits, fried chicken, dips, dressings. Classic buttermilk biscuits are a staple in my household. Quick, easy, and light as a feather, they can be served for breakfast, lunch, tea, dinner and even dessert!