Vickys Vegan Spaghetti and 'Meatballs', GF DF EF SF NF.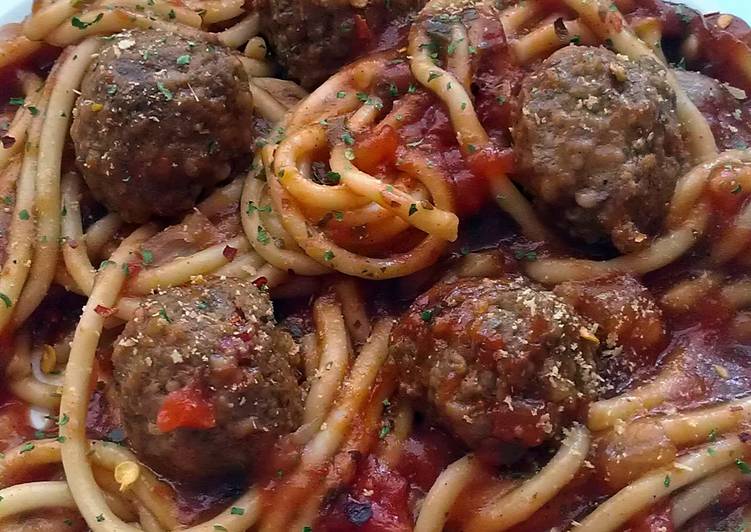 You can have Vickys Vegan Spaghetti and 'Meatballs', GF DF EF SF NF using 24 ingredients and 8 steps. Here is how you achieve it.
Ingredients of Vickys Vegan Spaghetti and 'Meatballs', GF DF EF SF NF
It's of Sauce.
You need 840 grams of cans of chopped tomatoes (28oz) or same quantity of my Tomato-Free Tomato sauce recipe.
It's 2 tsp of olive oil.
It's 2 of onions, chopped.
Prepare 8 clove of garlic, minced.
You need 3/4 tsp of oregano.
You need 1/4 tsp of italian seasoning.
It's 1/2 tsp of sugar.
Prepare 1 pinch of dried chili flakes.
You need to taste of salt.
You need of 'Meatballs'.
You need 560 ml of (2 & 1/3 cups) vegetable stock.
It's 170 grams (3/4 cup) of raw arborio rice.
It's 4 tsp of olive oil.
It's 1 of onion, finely chopped.
Prepare 450 grams of closed cap mushrooms, roughly chopped.
You need 1 of egg substitute – I use 2 tbsp mashed potato but see my egg replacers recipe for more options for binding burgers/meatloaf etc.
Prepare 50 grams (1 cup) of gluten-free breadcrumbs (I have a gf bread recipe listed).
You need 20 grams of nutritional yeast (1/6 cup).
Prepare 20 grams of ground almonds (optional for flavour) (1/6 cup).
You need 1 of small bunch of fresh parsley, finely chopped.
Prepare to taste of salt & pepper.
It's of Pasta.
It's 300 grams of gluten & egg free dried spaghetti (75 grams per adult).
Vickys Vegan Spaghetti and 'Meatballs', GF DF EF SF NF step by step
To make the sauce, puree the tomatoes in a blender. In a large pot, heat the oil over a medium-low heat. Add the onions and garlic and cook until softened but not browned, 2 – 3 mins. Add the oregano, chili flakes and Italian seasoning and cook while stirring for 30 seconds.
Stir in the tomatoes and sugar and bring to a simmer. Add salt to taste and reduce heat to low, partially cover and simmer, stirring occasionally for 45 minutes to 1 hour.
For the 'meatballs', bring the stock to a simmer in a large saucepan over a high heat. Add the rice, reduce the heat to medium and simmer uncovered and stirring occasionally, until the rice is tender and the mixture is creamy for 20 minutes. Stir almost constantly during the last 5 minutes of cooking. Transfer to a large bowl.
In a food processor, pulse the mushrooms in batches until almost pureed. In large nonstick frying pan heat 2 tsp olive oil over a medium-high heat. Add the onion and cook, stirring often until softened for 2 – 3 minutes. Add the mushrooms and cook while stirring until tender and most of the liquid has evaporated, 3 – 5 minutes. Add to the bowl with the rice and let cool.
Preheat the oven to gas 6 / 200C /400F. Spray a baking tray with cooking oil. Add your egg substitute, breadcrumbs, almonds (or extra breadcrumbs), nutritional yeast, parsley, salt and pepper to cooled rice mixture and mix well.
Form the mixture into about 24 balls. In a large nonstick frying pan, heat the remaining 2 tsp olive oil over medium high heat. Add half the balls and cook for around 3 minutes until browned.
Move the balls to the baking tray. Repeat the browning with the remaining balls and add to the tray. Bake for 15 – 20 mins until the balls are more deeply coloured and firm.
Cook the spaghetti according to the pack directions. Serve 6 meatballs per adult portion on a bed of spaghetti with the sauce poured over.