My Chick Pea & Spinach Curry.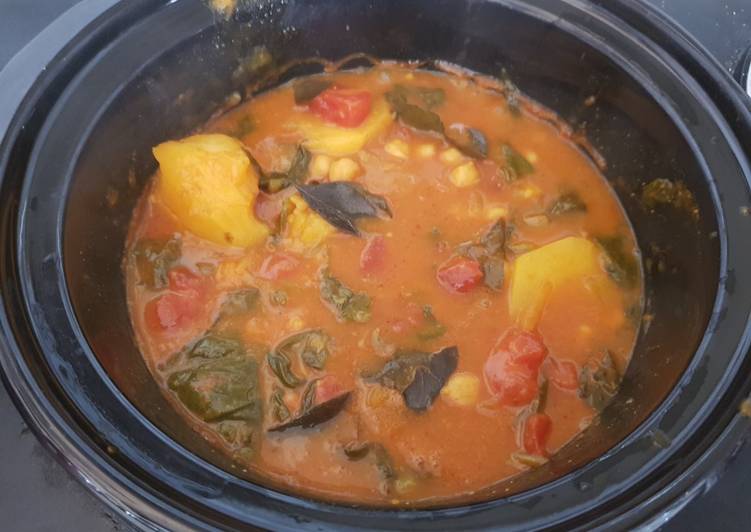 You can cook My Chick Pea & Spinach Curry using 16 ingredients and 17 steps. Here is how you cook that.
Ingredients of My Chick Pea & Spinach Curry
It's 2 cups of chic peas soaked overnight and rinsed.
You need 2 tbls of Olive oil.
It's 6 of small new potatoes.
You need 1/4 cup of shallots diced.
It's 3 of Garlic cloves minced.
Prepare 1 can of diced Tomatoes chopped.
Prepare 1 tbls of Tomato puree.
It's 1 of + 1/2 cups Coconut milk.
You need 2 tsp of Yellow Curry powder( i used malasian for vegetarians.
It's 1 of + 1/2 tsp Tumeric powder.
You need 1/2 tsp of ground cumin.
Prepare 3/4 tsp of Salt.
Prepare 1/2 tsp of Corriander powde.
It's 1/2 tsp of Black pepper.
You need 1/2 tsp of Red pepper flakes.
It's 2 of +1/2 cups of tightly packed fresh spinach.
My Chick Pea & Spinach Curry instructions
Add the oil to the pan and heat up.
Add the onions and fry for 2 minutes.
Then add the Garlic and cook for 1 minute stirring..
Add the chic peas to the pan and the can tomatoes,tomato puree and stir in. Add all the seasons ingredients to the pan and mix and simmer for 60 minutes. Or transfer all to a slow cooker on high for 4 hours..
Add the tomato puree.
Add the tomatoes.
Add the potatoes and simmer.
Yellow curry.
.
Pepper.
Salt.
Red pepper flakes.
Spinach.
And optional Curry leaves.
Stir and cover for 4 hours high.
Or 60 minutes simmering.
Serve Hot with some naan bread for dipping or Basmatti rice.