Vegan Pasta | Creamy Asparagus & Lemon.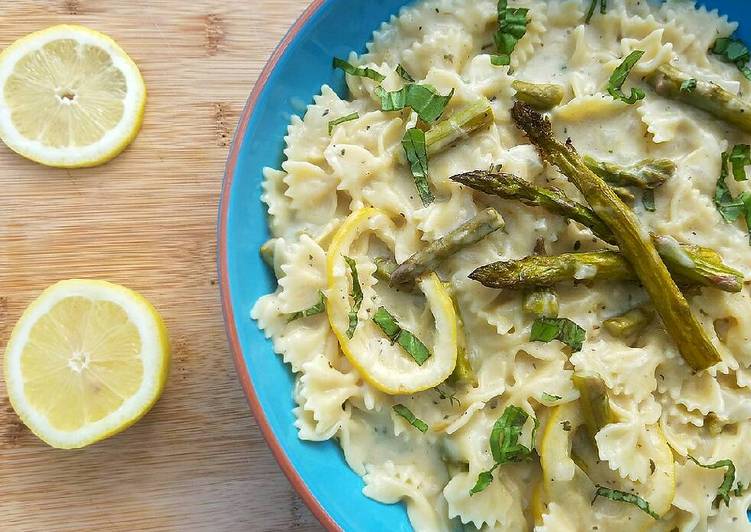 You can have Vegan Pasta | Creamy Asparagus & Lemon using 13 ingredients and 9 steps. Here is how you cook it.
Ingredients of Vegan Pasta | Creamy Asparagus & Lemon
Prepare 1 Bunch of Asparagus, Trimmed and Washed.
Prepare 1 of Lemon Sliced and the juice of ½ a lemon.
Prepare of Olive Oil.
It's 1 of Large Onion, Finely Diced.
Prepare 4 Cloves of Garlic, Minced.
Prepare 2 Tablespoons of Earth Balance Vegan Butter (Or use Olive Oil).
It's 4 Tablespoons of All-Purpose Flour.
You need 3 Cups of Unsweetened Almond Milk.
It's 10 Ounces of Bow Tie Pasta.
It's 2 Teaspoons of Italian Seasoning.
It's 1 Teaspoon of Garlic Powder.
It's 1/2 Teaspoon of Cayenne Pepper.
Prepare to Taste of Salt and Pepper.
Vegan Pasta | Creamy Asparagus & Lemon instructions
Preheat oven to 400 degrees.
Add asparagus to a baking sheet and drizzle with olive oil and season with salt and pepper. Top with thin slices of lemon and bake for 20 minutes..
Bring a pot of salted water to a boil and add pasta. Cook according to pasta instructions..
In a large skillet, melt the vegan butter in with a tablespoon of olive oil over medium high heat. Add onion and cook until translucent..
Add the garlic and cook until fragrant. About 2 minutes..
Add flour stirring constantly and cook for 2 minutes..
Whisk in almond milk. Add Italian seasoning, garlic powder, cayenne, and another pinch of salt and pepper. Bring to a simmer and reduce heat to low. Simmer for about 10 minutes..
Once asparagus is cooked, cut into thirds and add to the sauce along with the roasted lemon. *Hint: Don't eat the lemon…this just adds flavor..
Squeeze lemon juice over the sauce and stir. Drain pasta and add to the creamy sauce. Top with fresh basil and enjoy!.