Organic Vegan Basil Pesto Pasta. Cheesy and flavorful, plus an option for lower fat. The perfect plant-based spread for Italian dishes and more! I'm a pregnant vegan who has been craving pesto pasta!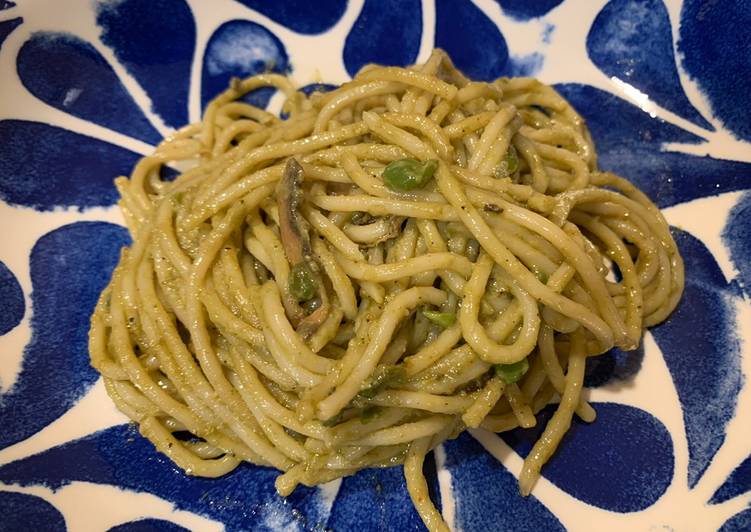 Naturally vegan and gluten-free pesto recipe w/ Ginger! When I made this Cilantro Basil Pesto I was really planning on just make a simple basil pesto. I didn't have enough basil left though but still had a. You can cook Organic Vegan Basil Pesto Pasta using 14 ingredients and 7 steps. Here is how you achieve it.
Ingredients of Organic Vegan Basil Pesto Pasta
It's of Pesto Sauce.
It's 2 tbsp of olive oil.
It's 4 cloves of garlic.
You need 2 cups of Fresh Basil.
You need 1/2 cup of walnuts.
Prepare 3 tbsp of nutritional yeast.
Prepare 2 tbsp of lemon juice.
It's 1/4 tsp of sea salt.
It's 4 tbsp of water (plus more as needed).
You need of Pasta.
You need 1/2 pack of spaghetti or any kind of pasta.
You need 1/2 cup of green peas.
You need 1 cup of mushrooms.
Prepare 1/2 cup of minced onion.
Sprouts Farmers Market Organic Basil Pesto Is Made From Basil, Tofu And A Variety Of Spices For Maximum Flavor. Serve The Pesto Over Pasta, Spread Over Crusty Bread Or Toast, Or Add To A Sandwich For A Meal Or A Snack. I wasn't disappointed with this vegan oil-free basil pesto with pasta dish! This pasta brand was highest rated at America's Test.
Organic Vegan Basil Pesto Pasta step by step
Boil water and cook the pasta, set aside.
Add all the Pesto sauce in the blender for 2 minutes.
Add 1 tbsp olive oil in a pan and sauté mushrooms and onion.
Add green peas and cook for another 3 minutes.
Add cooked Pasta.
Add Pesto Sauce.
Mixed well, add salt and pepper to taste.
This fresh, homemade vegan basil pesto tastes summery and delicious. You can stir it into your pasta, drizzle it on a salad, and smear it on a pizza or sandwich. Vegan basil pesto bursting with flavor from the loads of fresh basil, raw garlic, rich nuts, cheesy nutritional yeast, and fruity extra virgin olive oil. But then I saw a pesto pasta recipe on Food Network. It wasn't vegan, but it was nothing I ever made before.