Crispy Vegetarian Orange "Chicken".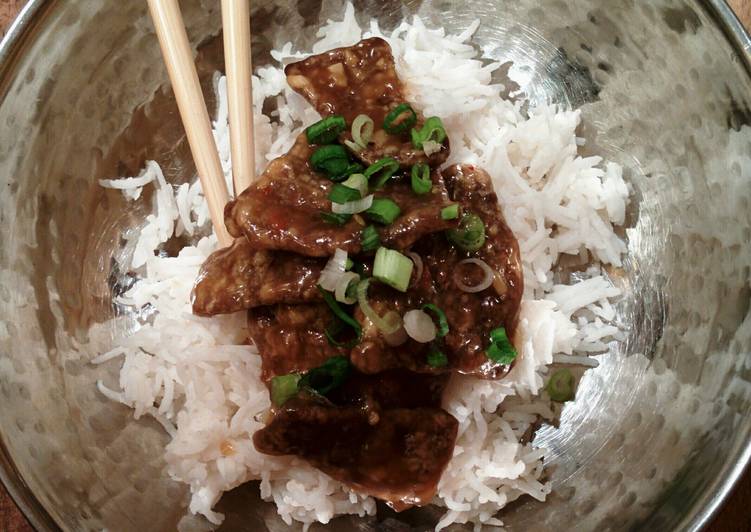 You can have Crispy Vegetarian Orange "Chicken" using 20 ingredients and 7 steps. Here is how you achieve it.
Ingredients of Crispy Vegetarian Orange "Chicken"
You need of orange glaze.
It's 2 tsp of white miso paste.
Prepare 1/2 cup of warm water.
Prepare 1/3 cup of orange juice (freshly squeezed).
You need 4 tbsp of sugar.
You need 2 tbsp of soy sauce.
Prepare 2 tbsp of white vinegar.
You need 1 clove of garlic (finely minced).
You need 1 tsp of ginger (finely minced, grated or paste).
Prepare 1/2 tsp of crushed red pepper flakes.
You need 1 tbsp of cornstarch.
It's 3 tbsp of water.
Prepare 1 tbsp of sesame oil.
Prepare 1 tbsp of lemon juice (optional).
You need of breaded "chicken" (seitan).
You need 1 lb of seitan (sliced, bite sized pieces).
You need 2 large of eggs (whisked well).
It's 1/2 tsp of salt.
It's 1 cup of cornstarch.
Prepare 2 cup of vegetable oil (or more for frying).
Crispy Vegetarian Orange "Chicken" instructions
Mix miso paste with warm water until completely dissolved. Add the orange juice, sugar, soy sauce and vinegar. Mix well..
Heat the sesame oil in a small saucepan over medium heat. Add the garlic, ginger and crushed red pepper. Sauté until fragrant. Be careful! It'll brown quickly!.
Add the orange juice & miso mixture to the saucepan. Mix well and bring to a simmer..
While bringing sauce to a simmer, mix together 1 tbsp cornstarch with 3 tbsp cool water to form a thin mixture. Whisk the cornstarch mixture into the sauce. Simmer until thickened. Cover and set sauce to the side..
Beat salt and eggs together. Take a few pieces of seitan and dip into the whisked eggs, then dredge in cornstarch. Make sure all of the pieces are coated well. Complete the dredging process on the rest of the seitan..
Heat oil in a dutch oven or large frying pan. Test the hot oil by dropping in a small piece of the seitan. Once the ideal temperature is reached, fry in batches. The size of your batches will depend on the size of your frying pan (I do two using my large dutch oven). Fry until golden brown; 1-2 minutes per side. Place fried seitan on paper towels to drain excess oil..
Once all the seitan has been fried and drained, place in a large bowl. Drizzle the warm orange glaze over the seitan and toss well. Serve over rice and garnish with fresh scallions..