'Cheesy' Vegan Squash Risotto.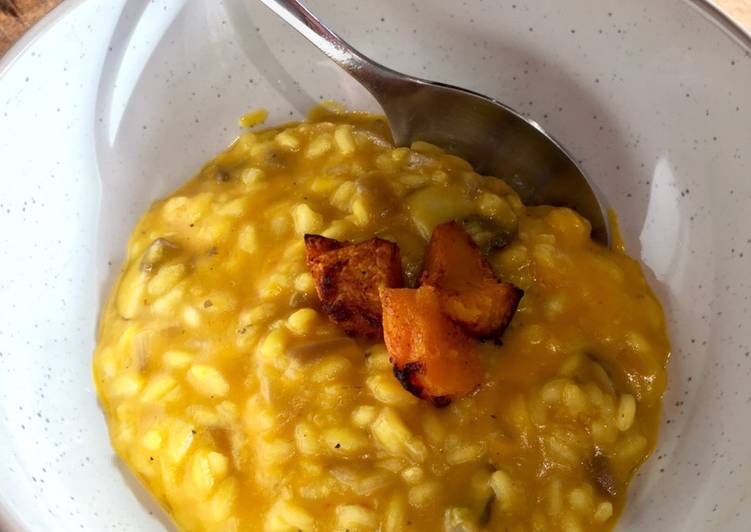 You can cook 'Cheesy' Vegan Squash Risotto using 11 ingredients and 5 steps. Here is how you cook it.
Ingredients of 'Cheesy' Vegan Squash Risotto
Prepare 1 of red onion, diced.
Prepare 3 cloves of garlic, crushed.
It's 4 strands of saffron.
You need 2 tbsp of olive oil.
Prepare Handful of mushrooms, roughly sliced.
Prepare 3 handfuls of arborio rice.
It's 1.5 L of vegetable bouillon or stock.
You need 75 g of vegan cheese such as Violife.
Prepare 1 of large winter squash.
It's of Salt and pepper.
You need of Paprika.
'Cheesy' Vegan Squash Risotto instructions
Preheat the oven to 190 C. Peel and dice the squash. Cook half of the squash in boiling water until tender, then purée this and add 75g of good quality vegan cheddar cheese (we recommend violife). Coat the remaining squash in olive oil, paprika or salt and pepper and roast in the oven until tender..
In a large saucepan, gently fry the onion and garlic in the olive oil until soft and translucent (about 5 mins). Add the saffron and mushrooms and give it all a good stir..
Add the rice and stir all of the ingredients again to coat the rice grains in oil and garlic..
Add the stock a ladleful at a time, give the rice a stir and allow the stock to be absorbed. When the stock has been absorbed add another ladle of stock. Repeat the steps until the stock has been used and the rice is fully cooked..
When the rice is cooked, endure the mixture is not too thick and dry – add a little boiling water if it needs loosening up. Then stir through you vegan cheese sauce, top with roasted squash cubes and serve!.