Spicy Indian Lentil Curry with Midnight Rice. Costco carries an organic Toor Dal which is what inspired me to create this recipe. You can also order them here. Spicy Indian Lentil and Spinach Curry with Rice is my take on a traditional curry lentil dish but, the addition of coconut milk and lemon juice makes this recipe more creamy with just the right touch of sour, so every bite is a delightfully flavorful experience.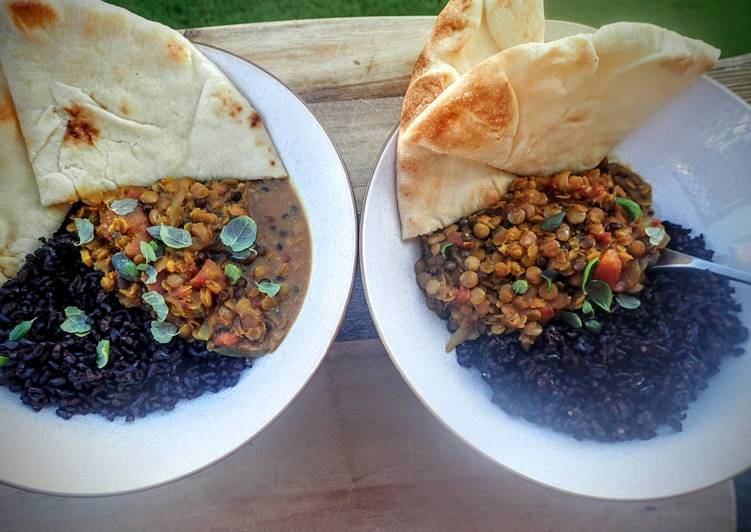 I made lentils on monday and used half in this recipe. There will more lentil incorporated dishes in the days following 🙂 Stay tuned! Today's Red Lentil Curry Recipe is just such a fusion of Indian and Thai ingredients. You can cook Spicy Indian Lentil Curry with Midnight Rice using 12 ingredients and 8 steps. Here is how you achieve that.
Ingredients of Spicy Indian Lentil Curry with Midnight Rice
It's 2 Tbsps of coconut oil (30 ml).
Prepare 3 cloves of garlic , minced (1 1/2 Tbsp or 9 g).
Prepare 1 tsp of ginger minced.
You need 1/2 of onion diced.
It's 3 Tbsps of (60 g) red curry paste (ensure vegan friendly).
You need 1 6 – ounces (170 g) cans of tomatoes diced.
It's 1 cup of water (240 ml).
You need 1 of bouillon tbl.
Prepare 2/3 cup of lentils water (128 g) dry , thoroughly rinsed in cold + drained.
Prepare 1 – 2 Tbsps of sugar (12-24 g).
Prepare 1/2 tsp of turmeric ground , plus more to taste.
Prepare 1/2 cup of coconut milk (80 ml) light.
You've got the red lentils and tomatoes used in Indian (or Middle Eastern) curries, along with Thai red curry paste and coconut milk associated with Thai (or Southeast Asian) curry dishes. Other lentils can be used as well – see notes for directions and notes on other lentil types. Dal Spices – Dal is made with far less spices than most Indian curries! This recipe calls for a simple combination of cumin, garam masala and turmeric.
Spicy Indian Lentil Curry with Midnight Rice instructions
Rinse lentils in a fine mesh strainer and set aside. ** make sure there aren't any little rocks in your lentils!.
Heat a large pot over medium heat. Once hot, add coconut oil, garlic, onion and ginger. Sauté for 2 minutes, stirring often..
Add curry paste and sauté for 2 minutes, stirring frequently..
Add tomatoes, water and bouillon, and stir to combine. Then add lentils, sugar, turmeric, and stir..
Bring to a simmer over medium heat, then reduce heat slightly to low (or medium-low), and gently simmer for 20 minutes, or until lentils are tender. Stir frequently, and add more water as needed if the mixture becomes too thick..
Stir in coconut milk for additional creaminess, and to balance the heat of the curry..
Taste and adjust seasonings as needed, adding more turmeric for depth of flavor, sugar for sweetness/flavor balance, or a pinch of salt for saltiness..
Enjoy with Midnight rice, brown rice, or naan!.
Red lentil curry is an Indian-inspired recipe that's made with lentils, sweet potatoes, a creamy sauce and authentic Indian spices – it's hearty, spicy and vegan! We adapted the recipe slightly from Dibora's original to make is ergonomic for the American home kitchen, but stayed true to the flavors. You can feel free to make the red lentil curry as spicy as you'd like with cayenne. The base of the recipe is garlic, ginger, carrots sautéed in coconut oil, and red curry paste. Tomato paste and vegetable broth make a deeply flavorful sauce, while turmeric and coconut sugar add depth of flavor.