Chickpea, squash and green bean curry – vegan. This is a delicious vegetable curry with chickpeas and butternut squash, but you can use any other pumpkin as well. If you're not vegan, yogurt tastes great with it, or you can use soy yogurt instead of course. I like to use dried chickpeas and cook them myself instead of canned, but you can of course use canned chickpeas as well.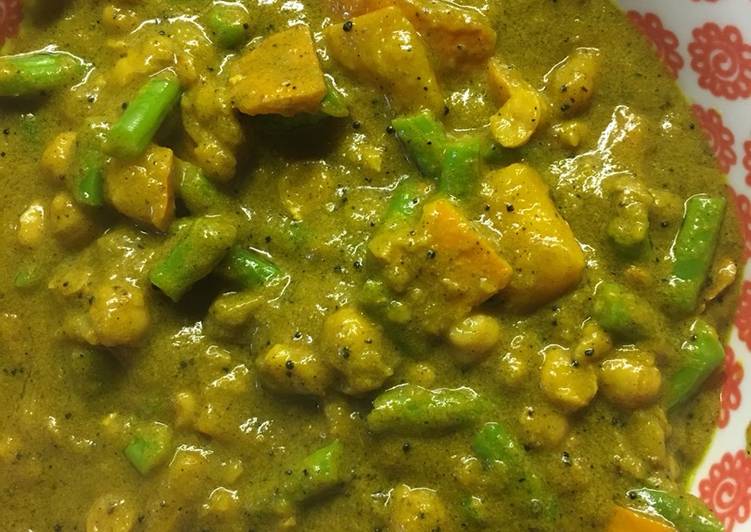 The spices are for flavour rather than heat. adding some chilli flakes at the end will add some heat 😁 #vegan #vegetarian #healthydinner Add the pureed squash back to the soup pan along with the drained chickpeas, curry powder, and red pepper flakes. Heat the coconut oil in a large skillet over medium heat. Add the onion, garlic and ginger. You can cook Chickpea, squash and green bean curry – vegan using 11 ingredients and 7 steps. Here is how you cook it.
Ingredients of Chickpea, squash and green bean curry – vegan
You need 1 tbsp of coconut oil.
Prepare 1 tsp of mustard seeds.
You need 1 tsp of ground cumin.
Prepare 1 tsp of Garam masala.
It's 1 tsp of turmeric.
It's 1 tsp of ginger powder.
It's 1/2 of Onion Squash (also known as Hokkaido), cut into 2-3cm cubes – Butternut or Kabocha are also nice (and you don't need to peel the squash 🎉).
It's 200 g of / 1/2 can chickpeas, drained and rinsed.
Prepare 200 g of / 1/2 can coconut milk, light or full-fat.
You need 1 cup of vegan stock (it's about 1tsp of powder for 1 cup) – if you're not vegan, you can use veggie stock instead of course.
Prepare 100-150 g of Green beans – peas or sugarsnaps or spinach or chard are nice too.
I haven't seen many pumpkins in local stores, so I haven't started on pumpkin season yet, but once I do I will do so with conviction, promise! This vegan curry is easy to make and while the ingredient list may seem. An easy vegan butternut squash and chickpea curry that freezes well. Delicious and fragrant, this chickpea, cauliflower, and butternut squash curry is a wholesome meal!
Chickpea, squash and green bean curry – vegan step by step
In a large pan, heat the oil. Add the mustard seeds. And fry til they pop..
Add the cumin, garam masala, turmeric and ginger. Heat for a few minutes..
Add the squash and chickpeas..
Add the coconut milk and vegan broth..
Bring to a boil and then cover and simmer for about 30 minutes until the squash has softened and the sauce has thickened..
Add the beans and stir through; they will take 5-10 mins. If the mix is getting a bit dry, add some water..
Serve with rice or chapatti. Enjoy!.
Vegetables are simmered in aromatic spices and coconut milk. When served with steamed rice and. Stir in the curry powder, cumin, cinnamon, and cayenne. Add the water, green beans, and salt to taste. The Best Vegan Bean Curry Recipes on Yummly