Cauliflower curry – vegan. This time, I had cauliflower just lounging around in my fridge thus this delicious vegan curry was born. Ingredients of vegan cauliflower curry: Aromatics: onion, garlic and ginger sauteed in olive oil. Sweet potatoes, cauliflower, and chickpeas: hearty, full of fiber and texture.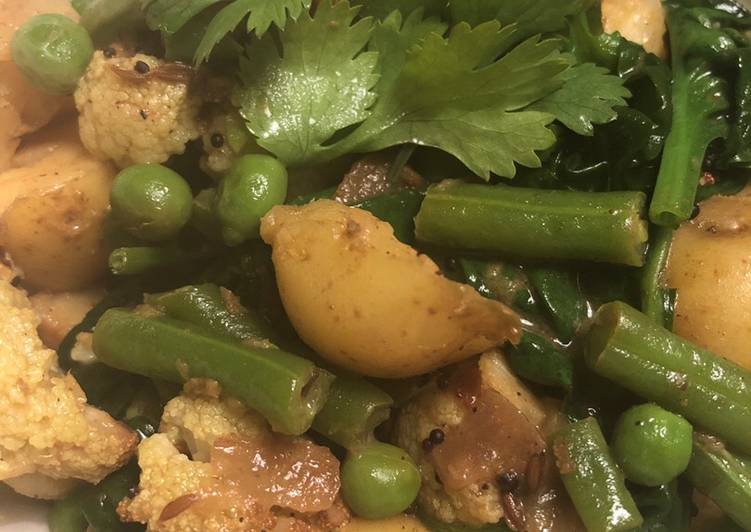 Roasting the cauliflower florets essentially caramelises their edges, which brings a wonderful flavour to this curry. The warm, Indian spices and creamy coconut milk transform this vegan curry into a vibrant and flavorful dish. Serve it over rice for a complete meal to enjoy any night of the week. You can have Cauliflower curry – vegan using 22 ingredients and 8 steps. Here is how you cook that.
Ingredients of Cauliflower curry – vegan
It's 1 tbsp of olive oil or coconut oil for roasting the cauliflower.
You need 2 tbsp of olive oil or coconut oil for the pan.
You need 1 tsp of ground cumin.
Prepare 1 tsp of mustard seeds.
Prepare 1/2 tsp of Dhania / or other coriander seeds.
Prepare 1 tsp of cumin seeds.
You need 1 tsp of garam masala powder.
Prepare 1/2 tsp of ground turmeric.
It's 1/2 tsp of chilli powder.
Prepare 1/2 of small onion, peeled and chopped.
You need 2 of garlic cloves, peeled and crushed.
You need 2 cm of chunk of ginger, peeled and grated.
Prepare 2 of curry leaves.
Prepare 1 cup of cauliflower, chopped into small florets.
Prepare 1/3 cup of new potatoes, chopped into small chunks.
You need 1/4 cup of peas.
Prepare 1/2 cup of green beans, chopped into 2 cm ish pieces.
It's of couple of handfuls of spinach.
Prepare 1/2 of lime.
Prepare 1/2 can of light coconut milk.
It's of Salt and pepper.
Prepare of Fresh coriander to garnish if you have.
This super easy cauliflower curry with potatoes and coconut milk is warm, comforting, full of veggies and flavor. This vegan cauliflower curry recipe is one of my all-time favorite things to make for dinner. Roasted Cauliflower Curry – Good To Know. Rabia would like to point out that cauliflower is ridiculously nutritious, a wonderfully healthy vegetable.
Cauliflower curry – vegan step by step
Preheat the oven to 180C. Put the oil for the cauliflower in a bowl, add the ground cumin and some seasoning and mix. Toss the cauliflower in the bowl. Then put the cauliflower onto a lined baking sheet and roast for ~25 mins..
Heat the oil in a big pan. Add the mustard, coriander and cumin seeds. Once they start popping, add the turmeric, garam masala and chilli powder and cook for 1 min..
Add the garlic, ginger and onion and cook for 10 mins. Have the heat on medium-low so things don't burn..
Add the potatoes. Coat them in the spices. Sauté for 10-15 mins..
Add the curry leaves and coconut milk. I also add 1/4 – 1/2 cup water. Depends on how soupy you want the curry. Bring to the boil. Then cover and simmer for 10 mins or so..
When the cauliflower is roasted, add to the pan along with the beans and peas. Cover and simmer for 5-10 mins..
Stir in the lime juice and the spinach. Cover and cook for a couple of minutes til the spinach starts to wilt..
Serve with rice or chapatti..
It has been found to help out with decreasing the risk of so many serious ailments including cancer, heart disease, diabetes and obesity. Squeeze over the lime juice and check for seasoning. Can be made a day ahead – pour in the coconut milk, reduce by half, then leave to cool and keep in the fridge. Heat coconut oil in a large pan over a medium-low heat. Then add the garlic and ginger and cook for a further minute.