Potato, cauliflower and pea curry – vegan. Aloo gobi matar is an Indian curry made with potato, cauliflower and peas. We spent a family weekend in Cadiz last September to celebrate Alberto's mother birthday and there was a beautiful Indian restaurant near our apartment. This super easy cauliflower curry with potatoes and coconut milk is warm, comforting, full of veggies and flavor.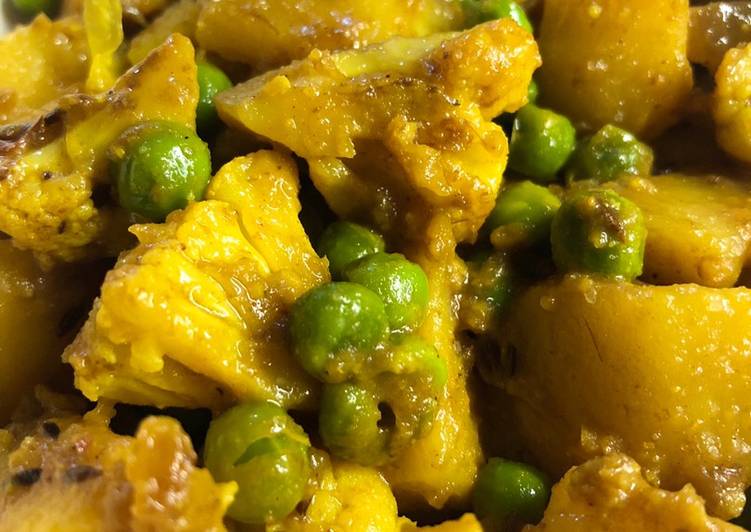 Like an aloo gobi with some peas thrown in 😁 It's so tasty: full of flavour. If you have some spinach, it's nice to stir that in at the end too. Substantial on its own; also nice with chapatti or roti on the side. #vegetarian #vegan Ingredients for the Vegan Cauliflower Pea Curry – Gobi Matar Cauliflower florets are roasted for a few mins with cumin seeds and chopped garlic. You can cook Potato, cauliflower and pea curry – vegan using 15 ingredients and 8 steps. Here is how you cook it.
Ingredients of Potato, cauliflower and pea curry – vegan
Prepare 2 tbsp of olive oil.
It's 1 tsp of cumin seeds.
Prepare 1 cup of potatoes, peeled and cut into small chunks.
It's 1 cup of cauliflower, cut into small florets.
You need 1 of small onion, peeled and chopped.
It's 2 of garlic cloves, peeled and crushed.
You need 2 cm of chunk ginger, peeled and grated.
It's 1 tsp of ground coriander.
It's of sprinkle of chilli flakes.
You need 1 tsp of ground turmeric.
It's 1 cup of water.
It's 1/3 cup of peas, frozen or fresh.
Prepare 1/2 tsp of garam masala.
It's of Juice of 1/2 lime.
You need Handful of coriander leaves, chopped.
The sauce is made by blending the base ingredients coconut milk, tomato paste, and flour with flavor ingredients like ginger, onion flakes, garam masala, cumin, coriander, fenugreek leaves and salt. Add water, to cover the split peas and mix thoroughly. Taste the mixture, and season with salt, stir in the spinach and half of the chopped coriander. Mix the remaining coriander with the roast cauliflower and potatoes.
Potato, cauliflower and pea curry – vegan step by step
Heat the oil on a medium heat. Add the cumin seeds. When they start to pop, add the potatoes and sauté until golden..
Take the potato out and set to one side. Repeat the process with the cauliflower. Then scoop the cauliflower out and set to one side. Add more oil of you need..
Turn down the heat. Add the onion and cook until soft..
Add the garlic and ginger. Cook for a couple of mins..
Add the ground coriander, chilli and turmeric and cook for a few mins..
Add the potatoes and then the cauliflower back into the pan. Add the water and cover. Cook for about 15 mins til the veg are starting to become tender. Keep an eye on it – stir every once in a while and add more water if it starts to stick..
Stir in the peas and garam masala. Add more water if it's drying out. Cook for another 5 – 10 couple of mins more til the peas are tender..
Then add the lime juice and chopped coriander and stir through. Enjoy 😋.
Spoon the dhal into serving dishes and top with some of the roast cauliflower and potato mix. Cut the cauliflower into bite sized pieces – not too big not too small. The cauliflower should be soft but still have a bit of bite. If you like it really soft just cook for longer. Garnish with some fresh coriander and a drizzle of vegan cream or coconut milk!