Chickpea curry (vegan). How to make vegan chickpea curry Add some olive oil to a pot along with some chopped onions, crushed garlic, garam masala (or curry powder), cumin, coriander powder, turmeric and cayenne pepper and sauté until the onions are softened. Then add in some canned chickpeas, chopped tomatoes and coconut milk and bring to a simmer. Our vegan chickpea curry is packed full of protein, fibre and iron.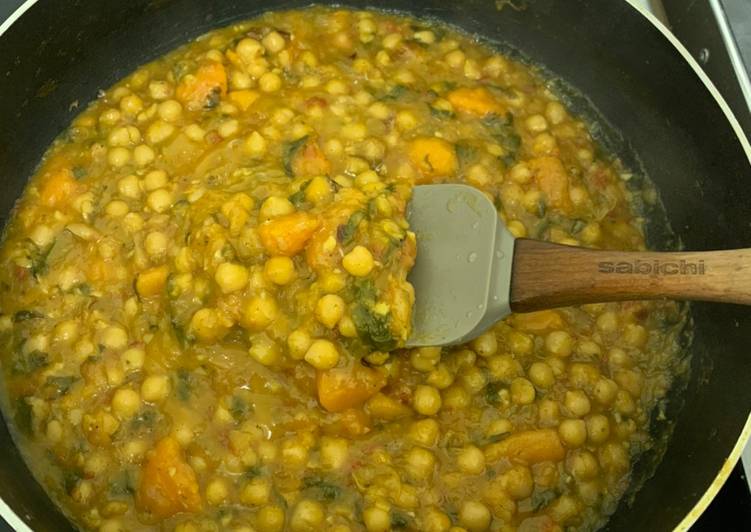 However, it uses the flavors of Indian cuisine to make a fast weeknight dinner. If you'd like a more authentic Indian dinner recipe, head to our Masoor Dal (Indian Red Lentils). Place a large saucepan over a medium heat and add the oil. You can cook Chickpea curry (vegan) using 14 ingredients and 6 steps. Here is how you achieve that.
Ingredients of Chickpea curry (vegan)
You need of Onion.
Prepare of Garlic.
Prepare of Chickpeas.
You need of Sweet potato.
Prepare of Olive oil.
Prepare of Vegetable stock.
It's of Scotch bonnet or cayenne pepper.
It's of Coconut milk.
It's to taste of Salt.
You need of Curry powder.
Prepare to taste of Black pepper.
It's of Garlic powder.
It's of Thyme.
You need of Water.
This is the most important part of making the curry, getting your base ingredients lovely and golden will insure the finished curry has a powerful flavour. This super-tasty vegan chickpea curry is easy, healthy and absolutely delicious! Easy Chickpea Spinach Curry (Chana Palak Masala) If you prefer a milder curry simply tamp down the hot spices, or my vegan one-pot Tikka Masala or luscious vegan Dal Makhani might also be better recipes for you. If you make this Coconut Chickpea Curry, please snap a photo and tag #jessicainthekitchen on.
Chickpea curry (vegan) step by step
Drizzle olive oil into a pan and went oil has heated and garlic & onions.
Add vegetable stock, water and chickpeas.
Add spices and scotch bonnet.
Add sweet potato's.
Once boiling bring heat down to gas mark 4 and leave to simmer for 20 minutes.
Add coconut milk, stir then let simmer for another 15-20 minutes to let the sauce thicken.
A good curry is a lovely thing, warming, filling and totally satisfying. This chickpea and lentil curry is all of those things and more! So, perfect for a weeknight dinner or great for a weekend when you want to ditch the takeaway. A classic easy coconut curry with chickpeas, inspired by Indian flavors. This garbanzo bean curry skips the complicated steps but doesn't skimp on flavor!