Squash and sweet potato curry – vegan. After cleaning and cubing the squash, continue by gently cooking chopped onions in coconut oil or olive oil. Add the spices and the garlic, stir for about half a minute, add pumpkin and sweet potatoes. Stir to coat for a couple of minutes, add vegetable stock, and milk.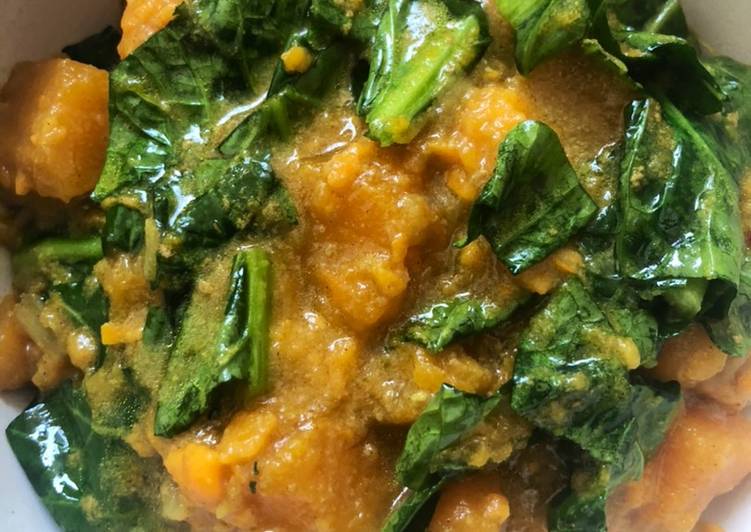 Add the cornflour, stir it all up then add the water gradually, stirring to work out any lumps. Add the squash and coconut milk, then simmer until the squash is fork tender. How to make vegan sweet potato curry It's a simple mix of onion, garlic, ginger, red curry paste and spices, with sweet potato, lentils, canned tomato, vegetable stock, coconut milk, fresh basil and a little peanut butter! You can have Squash and sweet potato curry – vegan using 13 ingredients and 7 steps. Here is how you achieve that.
Ingredients of Squash and sweet potato curry – vegan
You need 1 tbsp of coconut oil.
You need 1 of onion, peeled and chopped.
Prepare 2 cloves of garlic, peeled and crushed.
Prepare 3 cm of chunk fresh ginger, grated.
It's 1 of red chilli, finely chopped – or 1/3 tsp chilli flakes.
It's 1 tsp of ground turmeric.
You need 1 tsp of garam masala.
Prepare 1/2 tsp of ground cinnamon.
It's 1 can of coconut milk.
You need 50-100 ml of stock or hot water.
You need 1 of butternut squash, cut into bitesized chunks.
Prepare 1 of sweet potato, cut into bitesized chunks.
You need of Couple of Handfuls of baby spinach or coriander – or any leafy green.
This is a rambunctiously vibrant curry, both to look at and eat. It is rich, sweet and hearty, with tomatoes providing a balancing acidity and the curry paste bringing uncompromising fire. I like the drama of black Venus rice with this, but by all means serve any rice you want alongside. For US cup measures, use the toggle at the top of the ingredients list.
Squash and sweet potato curry – vegan instructions
Heat the oil in a pan (with a lid for later.).
Sauté the onion for about 10-15 mins..
Add the garlic, ginger, chilli, cinnamon and turmeric. Sauté for a couple of mins..
Add the creamy solid bit from the coconut milk. Sauté for a couple of mins..
Add the squash, sweet potato and rest of the coconut milk as well as about 250 ml of stock. Bring to boil. Simmer and cover until the squash and potato are cooked – about 45mins. Check to make sure it's not going dry – add more stock if it is..
Once the squash and potato are cooked, remove from the heat and squeeze the lime in and stir the leafy greens in. Put the lid back on for a few mins so the greens wilt slightly..
Serve and enjoy 😋.
A creamy butternut squash curry that is perfect for a healthy weeknight dinner or weekly meal prep. This vegan curry is simple to make and naturally dairy-free. I love serving this butternut squash curry over basmati rice and alongside naan bread. All of those flavors might sound a little sweet for soup but the coconut milk is actually very subtle and the vegetable broth and onion balance it all out. Add the chilli, ginger, coriander stalks and sweet potato to the softened onion.