Vegan green coconut curry. After the vegetables have simmered in the green curry coconut broth, the curry becomes rich, creamy, and oh-so flavourful. The creamy coconut tames the heat of the curry paste and ginger, bringing it down to a light kick. Of course, you can use any vegetables you like in this vegan Thai green curry.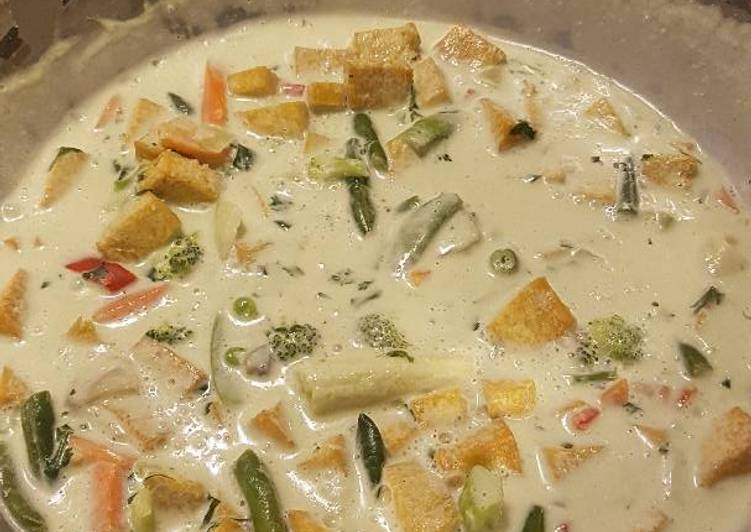 Add chopped onion, crushed garlic, minced ginger, sesame oil and green curry paste into a pot and sauté until the onions are softened. Add coconut milk, baby corn, broccoli, zucchini, red bell pepper and red chili peppers. Simmer until the veggies are softened but still firm. You can cook Vegan green coconut curry using 9 ingredients and 5 steps. Here is how you achieve that.
Ingredients of Vegan green coconut curry
Prepare 1 block of firm or extra from tofu.
Prepare 1 TBSP of oil.
You need 2 cans of coconut milk.
It's 1 TBSP of brown sugar or maple syrup.
You need 1 tbsp of green curry paste (adjust to taste).
You need 4 cups of frozen veggies (Thai stir fry blend).
You need 1 TBSP of lime juice.
You need Handful of cilantro.
It's Handful of basil.
Stir in coconut milk (you can use low-fat coconut milk if you want the curry to be skinnier). Finally add in the lime leaves and stock (or water). For this curry I used broccoli, green beans, peppers and carrots. You may use zucchini, asparagus or any other veggies that you like.
Vegan green coconut curry instructions
Heat oil in a large pan to medium heat. Cut tofu into 1/2" cubes and add to the pan. Cook until golden brown. Set aside.
Add coconut milk, green curry paste and brown sugar (or maple syrup) to a large pot or wok. Bring to a boil then simmer for 2 mins.
Add frozen veggies. Simmer until veggies are tender, about 5 to 7 mins.
Turn off heat. Stir in tofu, lime juice, chopped cilantro and basil. If you're not sure how much basil and cilantro to use, start with a 1/4 cup each and adjust to taste..
Serve with rice or naan.
I prefer crunchy vegetables in my Thai green curry. So once the veggies are sauteed, I then make the curry by cooking the curry paste and coconut milk together. Add curry paste and reduce heat to medium-low. Add onion, red pepper, zucchini, sweet potato, bamboo. Serve with rice for an easy weeknight dinner.