Coconut Curry Quinoa (Vegan + Gluten Free). The recipe came together with ingredients I already had in my kitchen. It is definitely a comfort type of food, as all you need is to cut all the veggies and throw it into one pot! Ideal for winter cold nights or as a easy meal to prep that is also freezer friendly.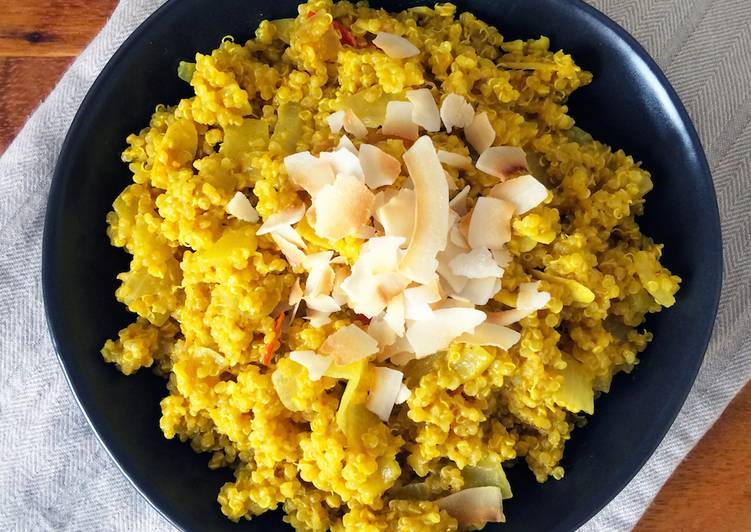 Add coconut oil and squash to a Dutch oven or large skillet. The Best Vegan Gluten Free Curry Recipes on Yummly Coconut Shrimp Curry, Curry Coconut Oil Roasted Cauliflower, Coconut Curry Chicken Skewers In a medium saucepan, mix quinoa, coconut milk, diced tomatoes (with juice), curry powder and ketchup/tomato paste, and bring to boil. You can have Coconut Curry Quinoa (Vegan + Gluten Free) using 10 ingredients and 8 steps. Here is how you achieve that.
Ingredients of Coconut Curry Quinoa (Vegan + Gluten Free)
It's 1 cup of quinoa.
Prepare 2 cups of unsweetened coconut milk.
Prepare 1 of tomato, diced.
It's 1/2 of zucchini, peeled and diced.
You need 1/2 of vidalia onion, peeled and diced.
You need 1/3 cup of red curry simmer sauce.
You need 1/8 cup of blanched sliced almonds.
You need 2 Tbsp of coconut oil.
It's 1 Tbsp of curry powder.
You need 1 Tbsp of coconut flakes, to taste.
While quinoa is cooking: in a frying pan, heat oil over medium heat and stir-fry the garlic and onion until. This coconut curry quinoa is made entirely in one pot. You just add the quinoa, coconut milk, tamari and spices into the pot, simmer away until the quinoa is fluffy and you're ready to serve. Golden Cauliflower Quinoa Curry – creamy turmeric spiced cauliflower and quinoa stewed together with crushed tomatoes, coconut milk and spinach.
Coconut Curry Quinoa (Vegan + Gluten Free) instructions
Add 1 cup quinoa and 2 cups water to a medium pot and bring to a boil.
Once the mixture has begun to boil, bring to a simmer for about 15 minutes until the quinoa has soaked up all of the liquid **The coconut milk will tend to foam and clump at the top if you do not continue to stir throughout–this is not a problem, and you can spoon off anything that clumps on top if you prefer**.
In a separate pan, heat 2 tbsp coconut oil and add the diced tomato, zucchini, and onion.
Continue to cook the vegetables on low-medium heat until they become soft.
Add 1/3 cup red curry simmer sauce to the vegetables and cook for another 5-10 minutes.
Once quinoa has finished cooking, add the vegetable/curry mixture to the pot and stir it in.
Add the 1/8 cup of blanched almonds, and 1 tbsp of curry powder and stir until the curry has fully been absorbed **1 tbsp does not seem like a lot, but it will go far!**.
Serve in bowls and add the coconut flakes to garnish!.
Gluten Free + Vegan Curry in a hurry! Served with rice and quinoa, this recipe makes a perfect meal for two or prepped for make-ahead lunches! When in "dinner doubt", make a curry! I've always loved a good, quick & easy curry. Coconut quinoa sends this over the top.