Bornmann's Vegan Summer Salad. Bornmann's Vegan Summer Salad A fresh salad for any summer braai. To provide you with a list of the best summer salads, I teamed up with some fellow food bloggers. So many yummy recipes in just one place!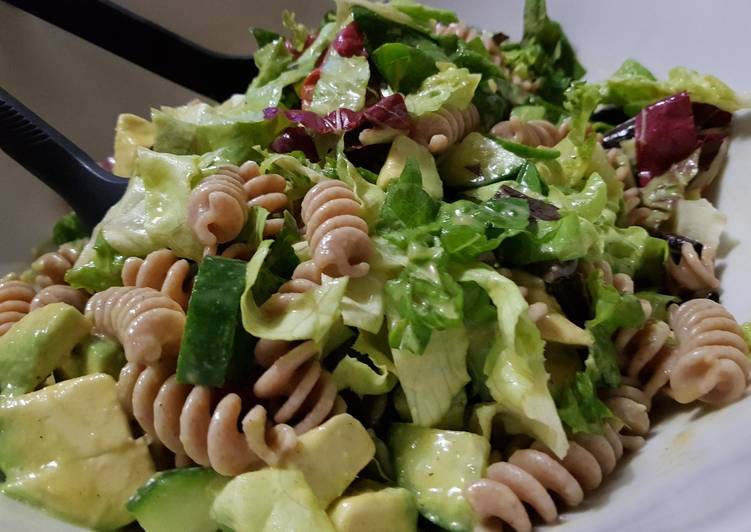 Grilled corn, farro, tomatoes, lots of fresh herbs and a tangy dressing. It's perfect for potlucks or as a side dish. Here is how you cook it. You can cook Bornmann's Vegan Summer Salad using 17 ingredients and 12 steps. Here is how you cook that.
Ingredients of Bornmann's Vegan Summer Salad
Prepare 250 ml of Organic spelt fusilli pasta.
You need 125 ml of Olive oil.
Prepare 125 ml of Apple cider vinegar.
It's 1 TBSP of Himalayan rock salt.
You need Pinch of Cayenne pepper.
It's Pinch of Nutmeg.
Prepare 1/2 tsp of Mustard powder.
Prepare Pinch of Turmeric.
You need 1 tsp of Freshly ground black pepper.
You need 1 tsp of Organic coconut sugar.
Prepare 1 TBSP of Tahini.
Prepare 2 of Ripe Avocados.
Prepare of Lettuce (Butter Lettuce, Radicchio, Oak leaf, Rocket).
Prepare 10 of Mediterranean cherry tomatoes.
It's 1 of Medium cucumber.
It's 1 of Fresh green chili.
You need 20 of Kalamata olives.
We've lucked out with the weather this week. It's really really hot and sunny so I am temporarily in my Greek summer mode – slumped in the shade with my notebook brainstorming future recipe ideas, living on nothing but salads and fruit. Like last summer, I put together a roundup of my favorite vegan summer recipes for you. It includes some great grilling sides like my Southwestern pasta salad or my Greek pasta salad with tofu feta.
Bornmann's Vegan Summer Salad instructions
Fill a big pot with water and add 1 TBSP of Himalayan rock salt and 15 ml of olive oil to it, bring the water to a boil and add pasta. Boil the pasta until al dente..
Add the following in a mixing jug: Coconut sugar, Freshly ground black pepper, Pinch Turmeric, Mustard powder, Pinch Nutmeg, Pinch Cayenne pepper, Olive oil, Tahini. Mix together until smooth..
When pasta is ready, strain the water off and keep rinsing with cold water until pasta is cold..
Chiffonade (slice in strips) all the leaves, place in salad dish..
Chop cucumber and bell pepper to personal desire, add to salad..
Slice tomatoes in half, add to salad..
Chop chilli into fine rings, add to salad..
Add olives to salad..
Add cold pasta to salad..
Dice avocados, add to salad..
Drizzle the salad dressing over and fold all the ingredients together in the salad bowl..
Bon Appetit!.
Besides, I included my vegan black bean patties that I absolutely love. All can be made ahead, perfect for midweek lunches during the week or great for potlucks and gatherings. The GH Test Kitchen shares their all-time favorite fresh and tasty vegan salads to eat year-round that are. Try this gluten-free, vegan salad with filling beans and fresh watercress for a quick, light meal. It has just four ingredients and three of your five-a-day Easy.