Orange stew 🧡 / Squash, sweet potato and carrot stew – vegan. Butternut Squash and Sweet Potato Stew with beans and spinach, a healthy Fall dish. Warm, comforting and filling, gluten free, vegetarian and vegan friendly, this sweet is so easy to make, and perfect with the whole family. Great recipe for Orange stew 🧡 / Squash, sweet potato and carrot stew – vegan.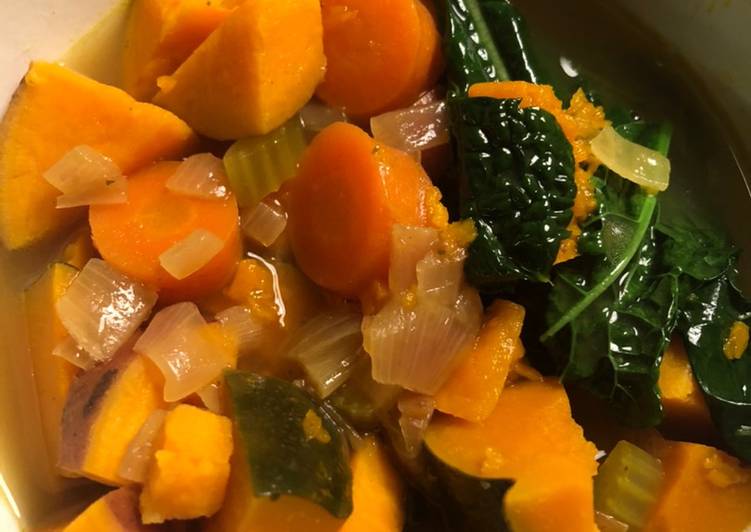 Either use an immersion blender to puree the soup or let the soup cool a few minutes and carefully transfer the soup in batches to a blender. How to make this vegetarian sweet potato stew: step by step First, saute vegetables & season. In your large pot or Dutch Oven, cook the garlic and onion in a bit of extra virgin olive oil until nice and fragrant. You can have Orange stew 🧡 / Squash, sweet potato and carrot stew – vegan using 15 ingredients and 6 steps. Here is how you cook it.
Ingredients of Orange stew 🧡 / Squash, sweet potato and carrot stew – vegan
Prepare 1.5 tbsp of olive oil.
It's 1 of medium-large onion, peeled and chopped.
It's 4 cloves of garlic, peeled and crushed.
You need 2 sticks of celery, chopped.
It's 1/2 tsp of ground cumin.
It's 1/2 tsp of ground cinnamon.
It's 1/2 tsp of ground turmeric.
Prepare 1 tbsp of apple cider vinegar.
Prepare 500-700 ml of vegan stock.
Prepare 2-3 cups of chopped vegetables eg squash, carrots, sweet potato.
Prepare 1/4 of cup/ handful chopped dried apricots.
You need of Optional: 1-2 cups cooked white beans or chickpeas; add 5-10 mins before the cavolo nero.
It's of Juice of 1/2 lemon + zest.
It's A few of handfuls of cavolo nero or baby kale, torn into pieces.
It's of Salt and pepper.
Add your chopped carrots and sweet potatoes. Season with kosher salt, pepper, and add in your set aside spice mixture. In this stew, the deep greens contrasted with the yellow of the squash and the orange of the sweet potato, makes this an attractive and nourishing dish for the autumn harvest. This vegan and gluten-free recipe is healthy and loaded with vegetables.
Orange stew 🧡 / Squash, sweet potato and carrot stew – vegan instructions
Heat the oil in a pan (with a lid for later) on a medium heat. Sauté the onion for about 10mins until translucent..
Add the garlic, celery and spices. Sauté for a couple of mins..
Add the stock and vinegar. (I added a bit too much stock today; start with 500ml and see how it goes.).
Add the vegetables and apricots. Cover and simmer for about 40 mins (until the vegetables are tender)..
Add the lemon juice. Taste and season. Then add the cavolo nero. Cover. Take the pot off the heat. The greens will steam on top of the stew. After a couple of mins, it's ready to serve..
Serve with your grain of choice/ on its own with some lemon zest grated on top. Enjoy 😋.
Enjoy a warm bowl of this comforting stew on its own or with some crusty bread. Butternut Squash, Kale & Quinoa Stew. Add spices and salt and cook one minute more. Add sweet potato, garbanzo beans, raisins, coconut milk and tomatoes to pot and bring to a boil. Add spices and cook a few minutes.