Banana pb&j vegan gluten free bread. Chocolate and Peanut Butter Swirl Dessert Dip; Banana, Chocolate and Peanut Butter Dessert Pizza. This vegan dessert pizza with banana, chocolate, and peanut butter is a quick healthy dessert. It is perfect for an after school snack. *Don't forget to come back and leave your feedback and star rating.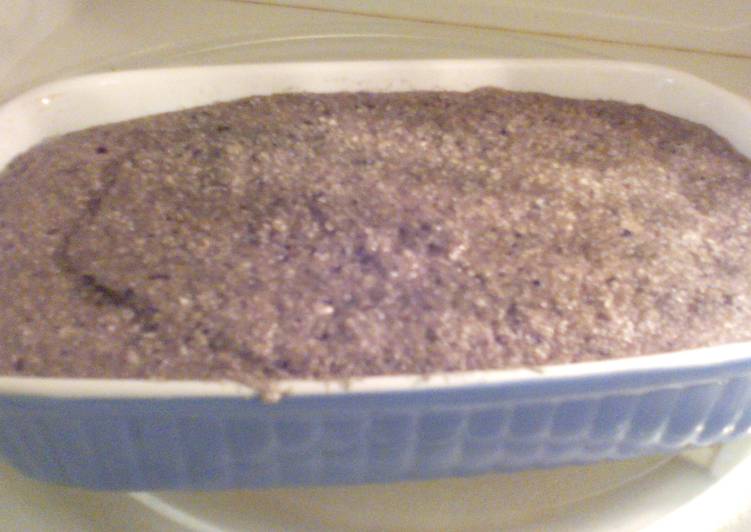 Chocolate Protein Powder – use your favorite brand! Thawed overnight or reheated in the oven, they taste just as good as a fresh batch! If you're a peanut butter lover like me, then you will enjoy these muffins. You can have Banana pb&j vegan gluten free bread using 8 ingredients and 4 steps. Here is how you cook it.
Ingredients of Banana pb&j vegan gluten free bread
It's 2 of banana.
It's 3 tbsp of peanut butter.
You need 1 cup of instant oats.
You need 2 tbsp of favorite jelly.
You need 3 tbsp of stevia.
You need 1/2 tsp of vanilla extract.
It's 1/2 tsp of ground cinnamon.
You need 1 tsp of baking powder.
Everyone loves ice cream, but we all know it doesn't make a great after-school snack. With its sweet banana-almond flavor and chunky texture, this appealing banana peanut butter "ice cream" is a crowd-pleaser. Strawberry-Banana-Peanut Butter Smoothie Weekday mornings are usually a mad dash to get everyone dressed, out the door and on their way to school, work, and appointments. As much as we enjoy lingering over a big Southern breakfast or a mid-morning weekend brunch, between Monday and Friday there just often isn't enough time to bake a breakfast.
Banana pb&j vegan gluten free bread instructions
Place all ingredients in a blender untill smooth (it will be a bit bumpy because of the oats).
Pour blend into a microwave safe baking pan or cupcake mold.
Microwave for 3-5 minutes.
Enjoy!.
Add peanut butter, oatmeal. banana, sugar, chocolate chips, and vanilla extract. Peanut Butter Banana Smoothie Peanut Butter Banana Smoothie. Banana Peanut Butter Bread Banana Peanut Butter Bread. This was one of my first açaí bowl experiences, and the flavor combination of banana peanut butter finally compelled me to create an inspired version for the blog. Blend milk, banana, peanut butter, cocoa powder, and honey together in a blender until smooth.