Black Bean pattie (Vegan). Carefully flip them halfway through the baking time. Serve them on burger bun (I used a whole wheat one) with lettuce, tomato, cucumber, and red onion. For the sauce, you could either use ketchup and mustard or BBQ sauce.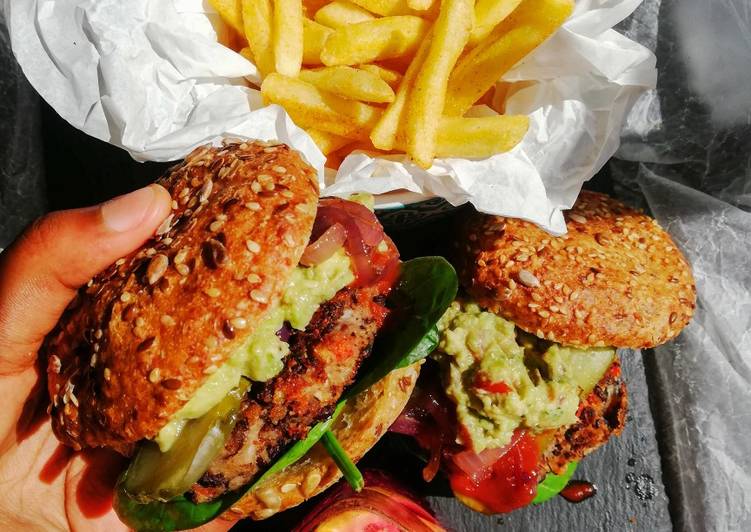 We just love a good vegan burger. And these vegan black bean burgers are seriously good. The recipe is loosely based on our vegan chickpea burgers but using black beans instead of chickpeas (of course) and adding in some walnuts for texture and extra spices to complement the black beans. You can have Black Bean pattie (Vegan) using 5 ingredients and 5 steps. Here is how you achieve it.
Ingredients of Black Bean pattie (Vegan)
Prepare 1 tin of Black beans, drained (220 g).
It's 1/2 of Shallots, finely chopped.
It's 1/3 of Red pepper.
It's 2 Tbsp of Rice flour.
It's of TT Chilli and Garlic seasoning salt.
We wanted the burgers to be nice and firm so that they hold up well when frying or on the grill, and. The best way to do this is to roll a handful into a ball, then gently flatten it. Not all black bean burgers are vegan. It's always worth checking first especially if you are eating out in a cafe or restaurant.
Black Bean pattie (Vegan) step by step
Drain the black beans and microwave on high for 5 minutes..
In a pan, grill the red pepper until soft and the skin caramelizes. Chop into even, small blocks and set aside..
In a bowl, mix together the beans, chopped pepper, finely chopped shallots, rice flour and seasoning..
Divide into 3 equal portions, flattening each portion into a round, patty shaped disk. Fry in a hot pan until each side is brown (takes about 4-5 minutes on each side)..
Enjoy in a burger meal with all your favourite trimmings..
Many recipes include egg and some contain breadcrumbs from a loaf that might not be vegan. Dry the beans: Spreading a few cans of rinsed and drained black beans onto a sheet tray and popping them into the oven dries them out, ensuring your patties won't be mushy. You'll know they're ready when the beans feel dry and are beginning to split. Drain, but do not rinse, the black beans. Place them in a bowl and use a fork to mash them.