Chinese Brocoli With Garlic And Parsley Soy Sauce. This easy broccoli recipe is flavored with ginger, garlic, sesame oil, miso paste, and soy sauce. Its savory and salty flavor works great with the mild flavor of broccoli. This recipe was created as part of my "Eat Like A Princess" Dinner series, and is inspired by Mulan.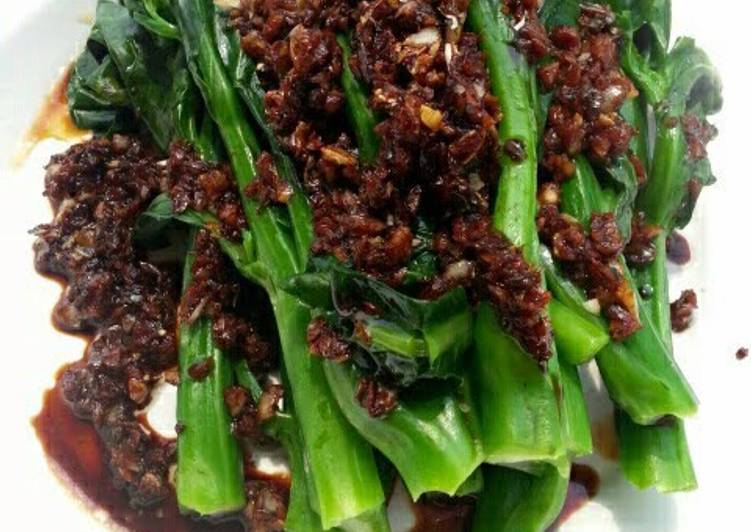 Chinese style side dish, oven roasted, flavorful and packed full of vitamins. For this Quick and Easy Broccoli with Garlic Sauce Recipe, you can make the garlic sauce in the morning and even prepare the broccoli the night before if you want. You can swap Chinese kai lan for broccolini or any vegetable stir-fry you like, using the same recipe! You can cook Chinese Brocoli With Garlic And Parsley Soy Sauce using 7 ingredients and 3 steps. Here is how you achieve it.
Ingredients of Chinese Brocoli With Garlic And Parsley Soy Sauce
Prepare 4 cup of chinese brocoli or kailan.
You need 2 tbsp of vegetable oil.
You need 1 tsp of salt.
Prepare of GARLIC AND PARSLEY SOY SAUCE.
You need 4 tbsp of fine dicegarlic.
It's 5 tbsp of light soy sauce.
You need 1 tsp of dried parsley.
First, broccoli is a western vegetable, and second, the garlic sauce has been altered slightly to suit American tastes, and perhaps formulated to be easier to make by Chinese takeout cooks. Taste for seasonings and serve cold or. This healthy vegan Chinese restaurant-style recipe for broccoli in a sweet garlic sauce is best served with cooked rice. Chinese Broccoli, or gai lan in Chinese, is one of the most popular Chinese vegetable dishes!
Chinese Brocoli With Garlic And Parsley Soy Sauce instructions
Bring a pot of water to a boil then add salt then blanch kailan stem first for 2 minute and then together the leaf for another 1 miniute then drain and cool kailan with ice bath or cool running water and drain.
in pan with 1tbsp of oil quick saute garlic till lightly brown then immed add soy sauce and stir vigorously then off heat and add dried parsley and mix well.
serve immediately top garlic soy sauce on kailan.
What you'll learn in this recipe. Trim the broccoli and halve any pieces with thick stems. Place a wok over a high heat. Combine broth, sake, soy sauce, oyster sauce, cornstarch and sugar in a bowl & set aside. Heat a large nonstick wok or skillet over medium heat; add oil.