Spicy vegan potato curry. How to make Vegan Potato Curry. This vegan curry is a wonderful fragrant mix of spices with potatoes, onions, garlic, ginger, chickpeas, chopped tomatoes, coconut milk and vegetable stock. Simmer it up in a big pot until the potatoes are tender and then serve it topped with some chopped.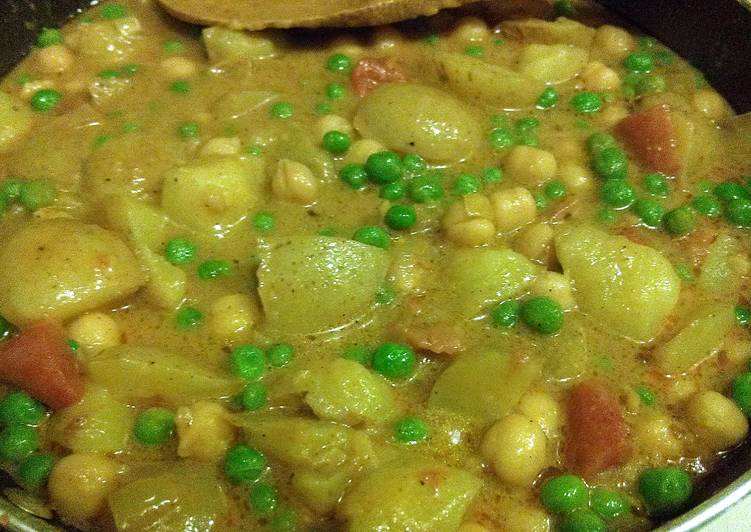 Potatoes – because without them, it would just be another veggie curry; feel free to add. Spicy Potato Curry – Vegan Dum AlooSimple Sumptuous Cooking. Serve it with a khichdi, pulao or with a flatbread like roti or Vegan, gluten-free, soy-free and nut-free. You can cook Spicy vegan potato curry using 14 ingredients and 2 steps. Here is how you cook it.
Ingredients of Spicy vegan potato curry
It's 4 of Potatoes, peeled and cube.
It's 2 tbsp of Vegetable oil.
Prepare 1 of Yellow onion, diced.
Prepare 3 clove of Garlic, minced.
Prepare 2 tsp of ground cumin.
It's 1 1/2 tsp of cayenne pepper.
Prepare 4 tsp of Curry powder.
It's 1 of 1 inch fresh ginger root, peeled and minced.
You need 2 tsp of Salt.
It's 1 can of 14.5 ounce diced tomatoes.
You need 1 can of 15 ounce garbanzo beans (chickpeas), rinsed and drained.
Prepare 1 can of 15 ounce peas, drained.
Prepare 1 can of 14 ounce coconut milk.
Prepare 4 tsp of garam masala.
Here's a totally delicious and exquisitely simple Potato Curry that goes perfectly with the Instant Pot Khichdi. This spicy vegan potato curry is full on with flavour and easy to make with pantry staples. Fried potatoes are simmered in a spicy and savory tomato-cashew sauce infused with delicious, aromatic Indian spices. You'll be surprised by how tasty the humble potato can be!
Spicy vegan potato curry instructions
Place potatoes into a large pot and cover with salted water. Bring to a boil over high heat, then reduce heat to medium low, cover, and simmer until just tender, about 15 minutes. Drain and allowed to steam drive for a minute or 2..
Meanwhile, heat the vegetable oil in a large skillet over medium heat. Stir in the onion and garlic. cook and stir until the onion has softened and turn translucent, about 5 minutes. Season with cumin, cayenne pepper, curry powder, garam masala, ginger, and salt. cook for 2 minutes more. Add the tomatoes, garbanzo beans, peas, and potatoes. pour in the coconut milk, and bring to a simmer. Simmer 5 to 10 minutes before serving..
This extra special vegan curry uses roasted cauliflower and potatoes to bring out their flavour. You can also serve as a side to meat curries. This spicy vegan supper is big on taste. It's simple to make and packed with chunky tandoori-spiced tofu on a cool mint, yogurt and red cabbage relish. But of course, use whatever vegetables you have that need to be used!