Vickys Hawaiian Sweet Bread, GF DF EF SF NF.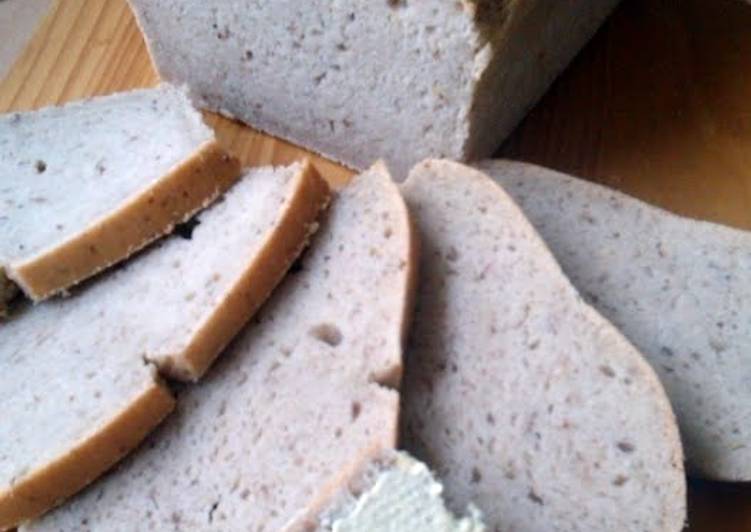 You can cook Vickys Hawaiian Sweet Bread, GF DF EF SF NF using 16 ingredients and 17 steps. Here is how you cook that.
Ingredients of Vickys Hawaiian Sweet Bread, GF DF EF SF NF
It's 120 ml (1/2 cup) of warm water (105F/ 40C).
It's 2 of & 1/4 tsp yeast.
You need 2 tsp of sugar.
Prepare 2 tbsp of ground flaxseed.
Prepare 6 tbsp of hot water.
It's 1 of & 1/2 tsp Vickys Best GF Egg Replacer (see link below).
Prepare 2 tbsp of water.
Prepare 316 grams of brown rice flour (2 cups).
Prepare 85 grams of potato starch (NOT flour, 1/2 cup).
You need 64 grams of arrowroot or cornstarch (1/2 cup).
It's 100 grams of granulated white sugar (1/2 cup).
It's 3/4 tbsp of (scant) xanthan gum.
Prepare 1 tsp of salt.
Prepare 120 ml (1/2 cup) of warm full fat coconut milk.
You need 3 tbsp of olive oil.
You need of extra coconut milk for glazing.
Vickys Hawaiian Sweet Bread, GF DF EF SF NF instructions
Combine the warm water, yeast and 2 tsp sugar and leave to bloom for 10 minutes until it has a frothy head an inch tall.
Mix the flaxseed and 6 tbsp hot water together and set aside with the yeast mixture.
Mix my egg replacer with the 2 tbsp water and set aside with the flax and yeast mixtures (Ener-G egg replacer is also fine to use) https://cookpad.com/uk/recipes/338157-vickys-best-egg-replacer-powder-for-gluten-free-vegan-baking?token=e86FfqRdAW5UUGbFoJ4AEP5H.
Mix the flour, starches, sugar, xanthan gum and salt in a stand mixer bowl until well combined.
Mix the milk and oil together.
Pour all 4 liquid mixtures (yeast, flax, egg replacer, milk) and add to the dry mix.
Mix in the stand mixer for 5 minutes until you have a soft, sticky batter.
Grease and flour a 9"x 5" loaf tin or two 6" round cake tins.
Put the mixture into the loaf pan and smooth the top with the back of a wet spoon.
Let rise in a warm place for 40 minutes.
Preheat the oven to gas 4 / 180C / 350°F.
Score the top with a sharp knife and glaze with some coconut milk.
Bake for 40 – 45 minutes or until the bottom of the loaf sounds hollow when you tap it. 35 – 40 minutes if using the 6" cake tins.
Let cool on a wire rack fully before slicing.
Will keep fresh for 2 days unsliced in a lidded container.
Wrap slices individually in cling, then in foil if you wish to freeze some.
Tip for the yeast water temp – mix 2 parts cold water with 1 part boiling water for the perfect temperature, in this case 80mls cold with 40mls boiling or 1/3 cup cold with 3 tbsp boiling.