Vickys Pear & Chocolate Cupcakes, GF DF EF SF NF.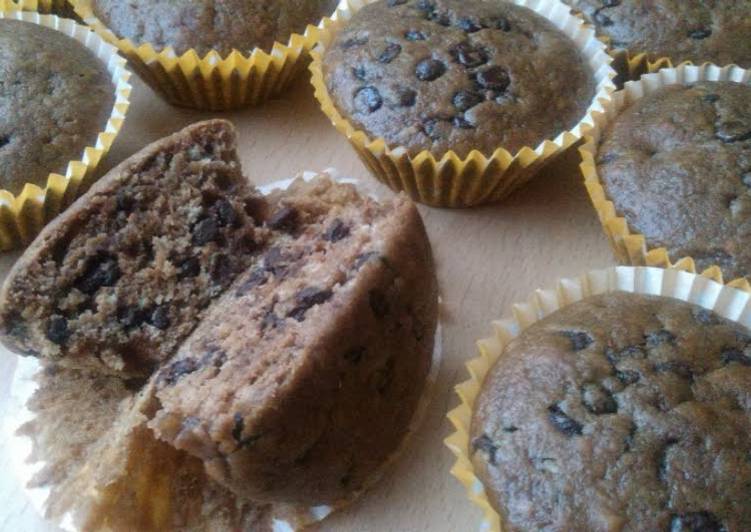 You can cook Vickys Pear & Chocolate Cupcakes, GF DF EF SF NF using 12 ingredients and 9 steps. Here is how you cook that.
Ingredients of Vickys Pear & Chocolate Cupcakes, GF DF EF SF NF
You need 2 of medium sized firm but ripe pears, diced.
It's 240 ml of pear, white grape or apple juice.
Prepare 150 grams (3/4 cup) of soft brown sugar.
Prepare 3 tbsp of sunflower spread / butter.
It's 60 grams (1/2 cup) of raisins (optional).
You need 210 grams (1.5 cups) of plain / gluten-free flour.
Prepare 1 1/2 tsp of baking soda / bicarb.
Prepare 1/2 tsp of ground cinnamon (or ginger).
It's 1/4 tsp of xanthan gum if using gf flour.
Prepare 110 grams (3/4 cup) of chocolate chips – I use the Enjoy Life brand or Moo-Free brand.
You need 65 grams (1/2 cup) of chopped pecans, almonds or walnuts (optional).
It's 1 tsp of vanilla extract.
Vickys Pear & Chocolate Cupcakes, GF DF EF SF NF instructions
Bring the diced pears, juice, sugar, butter and raisins (if adding) to the boil in a saucepan. Turn down the heat and let simmer, uncovered for 5 minutes.
Remove from the heat and let cool to room temperature.
Meanwhile preheat the oven to gas 4 / 180C / 350°F and line a 12 hole cupcake tin with paper liners.
Mix together the flour, baking soda, cinnamon, chocolate chips and xanthan gum / chopped nuts if using those too – if not you don't need to replace the nuts or raisins, they're just an optional extra.
Stir in the cooled pan mixture and vanilla until combined.
Divide evenly between the cupcake cases and bake for 20 minutes or until a skewer inserted in the middle of a cake comes away clean.
Let cool on a wire rack then enjoy!.
Keep in an airtight container. The juice content will make them a little sticky on top as time passes but they freeze well.
Just for info, in my original apple cupcake recipe I use 1 large cooking apple, apple juice and a whole teaspoon of cinnamon. The rest of the ingredients/directions are the same.