Vickys Date & Raisin Squares, GF DF EF SF NF.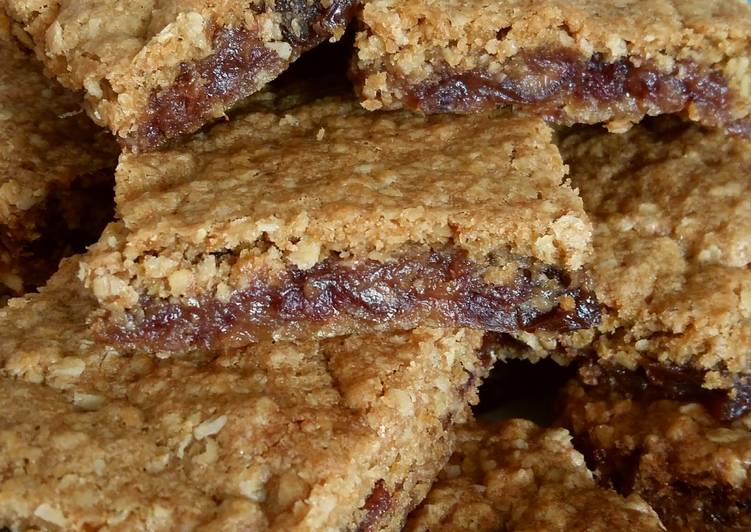 You can have Vickys Date & Raisin Squares, GF DF EF SF NF using 11 ingredients and 9 steps. Here is how you achieve it.
Ingredients of Vickys Date & Raisin Squares, GF DF EF SF NF
Prepare 230 grams of gold foil-wrapped Stork margarine / butter.
It's 135 grams of gluten-free rolled oats.
You need 160 grams of gluten-free / plain flour.
You need 120 grams of light brown sugar.
It's 1 tsp of bicarb / baking soda.
Prepare 1/4 tsp of xantham gum if using GF flour.
You need 1/2 tsp of salt.
Prepare 220 grams of pitted, chopped dates.
Prepare 45 grams of raisins.
It's 160 ml of water.
It's 70 grams of granulated white sugar.
Vickys Date & Raisin Squares, GF DF EF SF NF step by step
Preheat the oven to gas 4 / 180C / 350°F and line an 8"x 8" square cake tin with parchment paper.
Combine the margarine, oats, flour, brown sugar, bicarb of soda, xanthan gum if using and salt in a large bowl and knead together. If using plain flour only add 200g of the butter.
Press half of the oat mixture into the bottom of the lined tin until well packed down and set the other half aside. It can be a bit hard to spread the mixture to meet the sides so I put my hand inside a small ziplock bag and it helps pat it out without it all sticking to you.
Put the chopped dates and raisins in a saucepan with the white sugar and water.
Bring to the boil then reduce to a simmer for 5 – 10 minutes or until the water has mostly evaporated leaving a date paste in the pan.
Spread the paste over the packed oat mixture.
Press the rest of the oat mixture that was set aside on top of the date paste. It's easier if you break pieces of dough off and pat them flat between your palms and put them on top like a patchwork quilt. Then pat the whole surface down when you're finished.
Bake for 30 minutes then let cool completely before slicing into squares.
Delicious!.