Vickys Hidden Avocado Brownies, GF DF EF SF NF.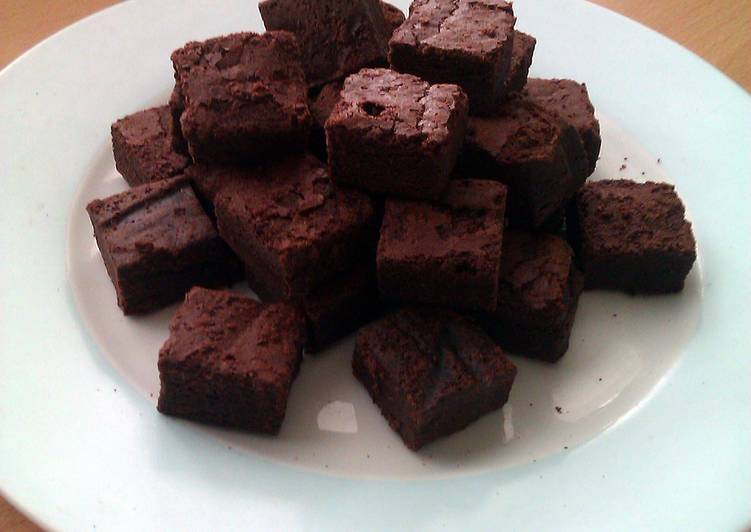 You can cook Vickys Hidden Avocado Brownies, GF DF EF SF NF using 11 ingredients and 5 steps. Here is how you achieve it.
It's 175 grams of gluten-free / plain flour.
You need 60 grams of pureed avocado.
You need 90 grams of dairy-free chocolate chips, I use 'Moo-Free' brand which are also soy-free.
Prepare pinch of xanthan gum if using gf flour.
It's 195 grams of brown sugar.
You need 1 tsp of baking powder.
It's 1/2 tsp of salt.
You need 60 grams of cocoa powder.
It's 2 tsp of apple cider vinegar.
It's 170 ml of water.
You need 50 ml of olive oil.
Preheat oven to gas 4 / 180C / 350°F.
Combine all dry ingredients seperately from all wet, then pour wet into dry, add choc chips and mix well.
Grease and flour or line an 11 x 7 tray and pour the mixture in, spreading evenly.
Bake for 20 – 25 mins until a skewer inserted near the edge cones out almost dry. Don't overcook or the brownies won't be gooey.
Cool and slice. Serve as a treat, or warm with ice cream or custard as a pudding. If you're in an even 'chocolatier' mood, dip them halfway in melted chocolate for a double choc brownie or frost them with my avocado icing – half a mashed avocado, 50g cocoa powder and 150g agave nectar beaten together until smooth.