Gluten free/Vegan Sweet Potato Pancakes. Fluffy and soft with a perfect level of sweetness, these make a great easy weekend breakfast or brunch, served with plenty Gluten-free and oil-free. I have to admit that breakfast is always the least extravagant of my meals. Well, I like to keep things simple in general, but.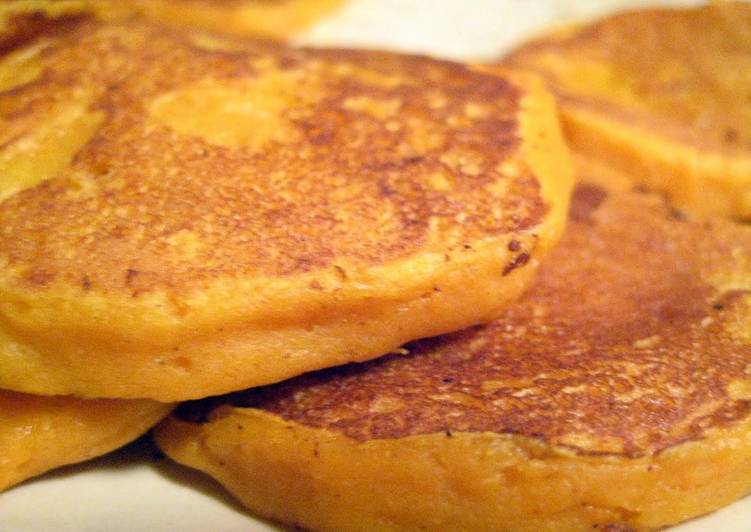 Diets this is good for: Fat-Resistance, Paleo, Vegan, Sugar Free, Dairy Free, Wheat Free (Gluten Free). There is nothing like fluffy flapjacks in the morning, right? Our Sweet Potato Pancakes are definitely a recipe you're going to fall in love with! You can cook Gluten free/Vegan Sweet Potato Pancakes using 15 ingredients and 6 steps. Here is how you achieve that.
Ingredients of Gluten free/Vegan Sweet Potato Pancakes
Prepare 1/3 cup of almond milk.
It's 2 tsp of lemon juice.
It's 2 tbsp of egg replacer (I use 11/2tbl water and 1/2tbl ground flax).
You need 1/4 cup of water.
You need 1/2 tsp of olive or coconut oil.
It's 1 tbsp of agave nectar (maple syrup if not vegan).
Prepare 1/2 cup of sweet potatoes- mashed or pureed.
It's 1 tsp of baking powder.
You need 1/2 tsp of nutritional yeast or baking soda.
It's 1/2 tsp of cinnamon.
Prepare 1 cup of gluten free flour.
You need 1/2 cup of gluten free oats.
It's of Brands used.
You need 1 of "Bob's red mill all-purpose flour" contains potato starch, garbanzo bean, white sorghum, and fava bean flour.
Prepare 1 of "Bob's red mill old fashioned rolled oats".
An easy gluten-free pancake recipe with a dairy-free and Vegan option. For years, I have been using gluten-free Bisquick as my gluten-free pancake mix. Gluten-free Bisquick can get expensive, especially if you have to use a whole box to feed a large family like mine. Crispy on the outside, soft in the middle, full of potato goodness with a Vegan Potato Pancakes!
Gluten free/Vegan Sweet Potato Pancakes instructions
In a large bowl combine 1c milk and lemon juice. Add oats. Let stand for 10 minutes to soften.
if using flax as egg replacer, combine and let stand 5 minutes to achieve egg like texture..
Whisk together egg replacer, oil, agave nectar (maple syrup), remaining 1/3c milk, and mashed sweet potatoes. Add to oat mixture..
In small bowl combine flour, baking powder, yeast (baking soda), and cinnamon..
Lightly oil medium pan and preheat to medium heat. Pour desired sized pancakes. When bubbly and sides firm flip ave cook until golden brown.
Top with desired dressing! syrup, pecans, etc..
Don't you just love when you make something on a whim and it turns out Ohh sweet potatoes sound lovely! I think you will find that grated potato pancakes are a little crispier. These Vegan Potato Pancakes are perfect for a savory Breakfast or Dinner! They're perfect with some Cashew This recipe is a collaboration with my friends Jasmine and Chris of Sweet Simple Vegan. I made these Potato Pancakes Gluten-Free by using an GF All-Purpose flour blend, but you could.