Table Of Content [
Close
]
Masala Soup. Inspired by classic Indian chicken tikka masala, we dreamed up a soup recipe built around the iconic flavors of that dish. Say hello to a new weeknight favorite—chicken tikka masala soup! The warm and grounding flavors of garam masala, ginger, turmeric, cumin, and cinnamon infuse the tikka masala sauce-inspired soup base.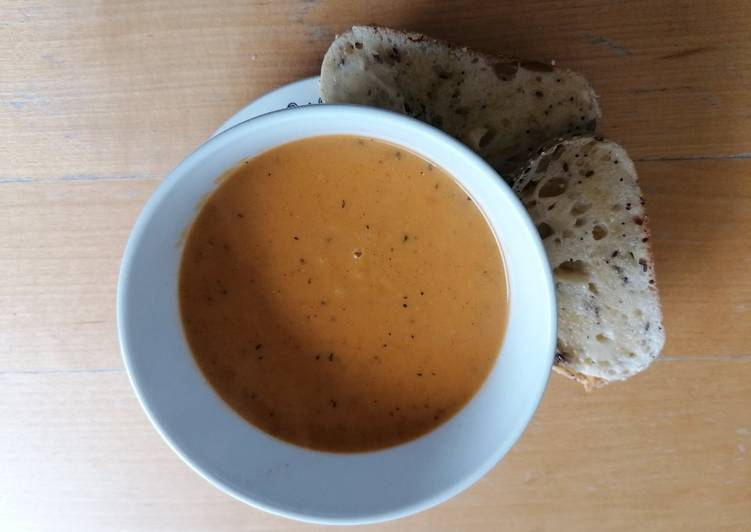 It doesn't take nearly as long as a curry but has just the same amount of rich flavor. Not only is it the time of the year for lots of soup – lately it seems like it's the year of the soup. This dish is an easy one to make into soup! You can have Masala Soup using 19 ingredients and 8 steps. Here is how you achieve that.
Ingredients of Masala Soup
Prepare of Small knob of butter (or double up the oil if you want to keep it vegan).
Prepare 1 tsp of coconut oil.
Prepare 1 of heaped tsp cinnamon.
It's 1 of heaped tsp garam masala.
You need 1 of level tsp nigella seeds.
Prepare 2 of garlic cloves, finely chopped.
Prepare 2 of sundried tomatoes (can use plum or cherry if not available), chopped.
Prepare 1 of heaped tablespoon tomato puree.
You need 1 of leek – finely chopped.
It's 1 inch of cube fresh ginger, grated.
It's 2 of medium white potatoes, peeled and finely chopped.
You need 1 of medium sweet potato, peeled and finely chopped.
You need 2 of medium parsnips, peeled and finely chopped.
It's 1 litre of veg stock – I use bouillon (which can be vegan and low salt).
You need 1 cup of tinned coconut milk.
Prepare 1 tsp of mango chutney (optional).
You need to taste of Salt and pepper.
It's Squeeze of lime.
It's 1 tbsp of plain, full fat yoghurt.
Chicken Tikka Masala is traditionally quite a saucy dish, similar to many curries. It already has a creamy tomato-based sauce, so all I did was thin it out a bit to turn it into soup. More Indian-Inspired Soup Inspiration: Chicken Tikka Masala Soup is the most warming, most comforting, most delicious soup you will ever have. 'Nuf said. As far as I'm concerned, soup is something that is good all year-round.
Masala Soup step by step
Melt the butter and oil in a saucepan. Add the nigella seeds, cinnamon and garam masala and cook on a medium heat for 2 minutes..
Add the garlic to the pan and cook for a further 2 minutes..
Whilst the garlic is cooking, whizz up the sundried tomatoes, tomato puree, leek and ginger in a blender with a dash of boiling water. You could just grind it all together in a pestle and mortar if you dont have a blender small enough..
Add this paste to the pan and cook for 10 minutes..
Add 2 tbsps of coconut milk and mix with the paste. Mix in all your chopped veg and stir well. Cook for a few minutes, stirring..
Now add your stock and the rest of the coconut milk. Bring to the boil and simmer on a low heat with the lid on for 20 minutes, or until your veg are soft..
Add a heaped tsp of mango chutney and whizz your soup with a hand blender until it is completely smooth – I think this soup is best without any lumps!.
Add the lime juice, yoghurt and salt and pepper to taste. Stir well and serve in a warm bowl with some lovely bread – or maybe a small, warm naan bread..
This is one of those soups that is great in the winter (duh…), but it's also great in the summer too. This soup tastes just like your favorite Indian takeout! This Chicken Tikka Masala Soup is a big, warm, flavorful, slightly spicy bowl of Indian food goodness. Even though the weather is starting to warm up, don't pass up a chance to enjoy this soup. The color in this soup = all the pretty, smoky spices.