Vickys Chocolate Granola GF DF EF SF NF.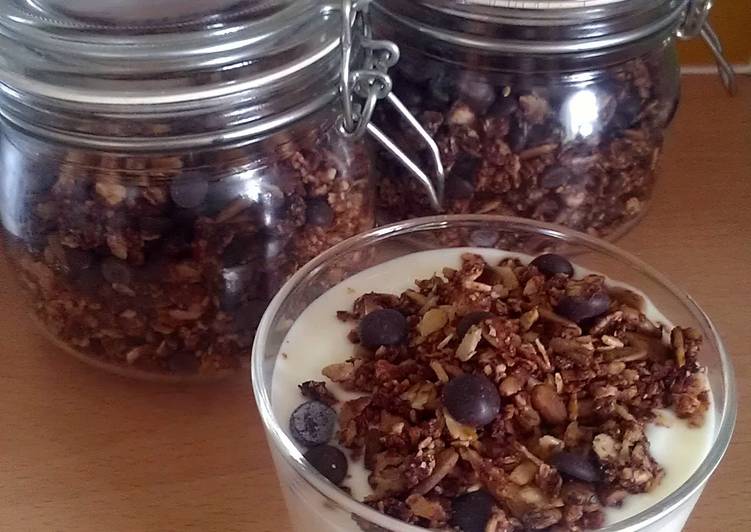 You can have Vickys Chocolate Granola GF DF EF SF NF using 12 ingredients and 10 steps. Here is how you cook it.
Ingredients of Vickys Chocolate Granola GF DF EF SF NF
It's 65 grams of hulled sunflower seeds.
You need 45 grams of dessicated/shredded coconut.
Prepare 60 grams of gluten free rolled oats.
It's 30 ml of coconut oil in liquid state.
You need 30 ml of maple or agave syrup.
You need 35 grams of sunflower butter, see my recipe, or peanut butter.
It's 15 grams of unsweetened cocoa powder.
You need 1 tbsp of sugar.
Prepare 1 tsp of strong brewed black coffee.
Prepare 1/2 tsp of vanilla extract.
You need 1/4 tsp of salt.
Prepare 60 grams of chocolate chips, I use Enjoy Life or Moo Free brand.
Vickys Chocolate Granola GF DF EF SF NF step by step
Pre-heat the oven to gas 3 / 150C / 350°F & line and lightly grease a baking tray.
Toast the sunflower seeds in a dry frying pan. You'll smell a nutty smell and they'll turn a golden colour when done.
Let them cool then mix with the coconut and oats. Set aside.
In a small pan over a medium heat, melt together the oil, syrup, sunflower butter, cocoa, sugar, coffee, vanilla and salt to make a chocolate sauce https://cookpad.com/us/recipes/354252-vickys-homemade-sunflower-butter-alternative-for-peanut-butter.
Pour over the seed/coconut/oat mix and stir in to give everything an even coating.
Bake for 10 minutes, take the tray out and give the granola a stir, then bake a further 10 minutes.
Let it fully cool then mix in the chocolate chips https://cookpad.com/us/recipes/343381-vickys-homemade-chocolate-gf-df-ef-sf-nf.
Use as an ice cream or yogurt topping or add to your breakfast cereal or porridge for a little chocolatey crunch!.
Keep in a lidded jar in the fridge for up to a week.
Makes around 280g / 2 cups.